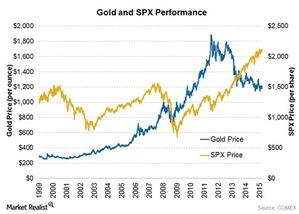 Gold's Correlation to the Equity Markets
Haven or not?
While gold has an inverse relationship with the dollar, stocks markets also have a deep connection to the metal. Investors commonly perceive gold as a haven in the event of a severe stock market downturn. Presumably, when we experience a global market decline, stocks and currencies move downward. Some investments become less desirable and investors assume gold will give them some breathing room. However, this does not always hold true, and investors can get burnt.
However, interestingly, gold's 12-month correlation with the S&P 500 over the past 45 years averages zero. So, whether gold is a haven asset or just a teaser remains a mystery.
Article continues below advertisement
Correlations
A look at gold and equity market performance demonstrates that a falling stock market isn't necessarily a catalyst for a major rally in gold. Since 2005, the SPDR Gold Shares ETF (GLD) has had a correlation of 0.14 with the S&P 500. Correlations vary from 1.0 to -1.0, with 1.0 indicating that two securities move in exactly the same direction, -1.0 showing that they move in opposite directions, and 0.0 showing no correlation at all.
Typically, stocks have a high negative correlation with the US dollar. However, gold has an opposite relationship. The US dollar tends to rally when equities are weak, thus putting downward pressure on gold. This can make gold and its related stocks move in the same direction as the dollar instead of the opposite.
Gold-based stocks such as Goldcorp (GG), B2Gold (BTG) and Alamos Gold (AGI) mostly follow the gold market's returns rather than the overall stocks market's. These three companies make up 9.9% of the VanEck Vectors Gold Miners ETF (GDX). Another ETF that follows gold is the iShares Gold Trust ETF (IAU).