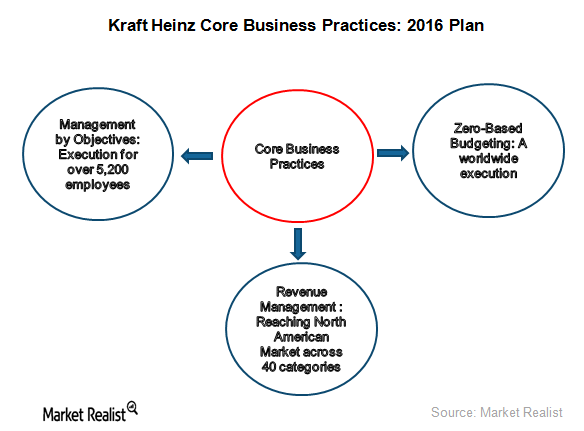 Evaluating Kraft Heinz's Core Business Strategies
Kraft Heinz's core business strategies
The Kraft Heinz Company (KHC) is focusing on core business practices, including ZBB (zero-based budgeting), revenue management, and MBO (management by objectives). These are the systematic tools that the company uses to run daily operations. The company has been working towards putting core business practices in place.
Article continues below advertisement
Article continues below advertisement
Zero-based budgeting and revenue management
The company has been rolling out ZBB across the commercial units and functions of Kraft, building a base for 2016 planning process worldwide.
In revenue management, the company has been building an internal function to support the strategy of reaching the North American market across about 40 categories.
Management by objectives
MBO (management by objectives) gives a rough idea about measurable expectations, goals, and deliverables for all managers of the company. It also connects all the employees around the world, throughout the organization. Berkshire Hathaway and 3G Capital has implemented the MBO process at Heinz for over 3,000 employees. Kraft Heinz plans to execute MBO for over 5,200 employees in 2016, and Kraft Heinz still has a detailed supply chain and manufacturing plan waiting to be implemented.
Article continues below advertisement
Meanwhile, 3G Capital has applied ZBB at Anheuser-Busch InBev (BUD), a multinational beverage and brewing company headquartered in Belgium. Other firms in the packaged foods (XLP) industry applying ZBB include Campbell Soup (CPB) and Pilgrim's Pride (PPC). Intel Corporation (INTC), E I Du Pont De Nemours and Company (DD), and Xerox Corporation (XRX) are some of the large companies famous for using MBO.
Kraft Heinz's ETF exposure
Kraft Heinz makes up 0.23% and 0.39% of the portfolio holdings of the iShares Core S&P 500 (IVV) and the iShares Russell 1000 Growth ETF (IWF), respectively. Consumer staples companies make up 9.8% and 11.1% of IVV's portfolio and IWF's portfolio, respectively.
In the next part of this series, we'll take a look at Kraft Heinz's approach to profitable sales growth.