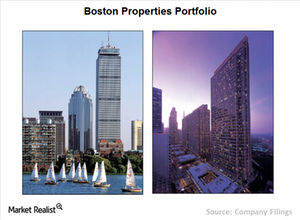 Boston Properties among REITs: Kind of a Big Deal
A peek at company history
Boston Properties (BXP) was founded in 1970 by Mortimer B. Zuckerman and Edward H. Linde. Headquartered in Boston, the company is structured as an REIT (real estate investment trust) and completed an initial public offering in 1997. The company is now the largest publicly traded office REIT in the United States and is a part of the S&P 500 index.
Article continues below advertisement
Article continues below advertisement
Business interests
Boston Properties is a fully integrated, self-administered, and self-managed REIT. The company is primarily engaged in the ownership, management, and development of class A office properties in the US. Although the company's property portfolio mainly comprised class A office buildings, it also has an interest in residential, retail, and hotel properties.
Boston Properties has particular expertise in developing premium CBD (central business district) office buildings, office centers at suburban markets, and customized projects for clients like the US government and major corporate tenants.
Heavy hitters in office leasing
Boston Properties is one of the largest office REIT companies in the US, with a market capitalization of $19.3 billion. The company competes with a number of other office REITs in the US for rental properties. Competition in the office leasing space is mainly driven by factors such as the following:
the quality of properties and services provided to tenants
the attractiveness of leasing terms
location
the reputation of a company operating office properties
Major competitors of Boston Properties in the office REIT space include the following:
SL Green Realty Corporation (SLG)
Alexandria Real Estate Equities (ARE)
Kilroy Realty Corporation (KRC)
Douglas Emmett (DEI)
BioMed Realty Trust (BMR)
Highwoods Properties (HIW)
Paramount Group (PGRE)
Equity Commonwealth (EQC)
Columbia Property Trust (CXP)
The iShares Cohen & Steers REIT ETF (ICF) invests ~4.6% of its portfolio in Boston Properties.
Series content
Boston Properties among REITs: Kind of a Big Deal
A Full-Frontal Look at Boston Properties: the Proof Is in the Portfolio
Making Sense of Boston Properties' Geographically Concentrated Portfolio
Why Property Development Matters So Much to Boston Properties
A Nod to Boston Properties' Key Growth Drivers, Acquisitions and Dispositions
Breaking Down Boston Properties' Value Creation Strategy
Make No Mistake, Higher Occupancy Levels Are Boosting Boston Properties' Top-line
Why Boston Properties' Revenue Growth Keeps Looking So Good
Boston Properties' Cost Structure, EBITDA Margin, and Other Must-Knows
Sizing up Boston Properties' Funds from Operations
Boston Properties' High FFO Payout Ratio, or Why Dividends Matter
The Word on How Boston Properties Maintains Growth Momentum: Leverage
Boston Properties' Price-to-FFO Multiple Stands Tall among Peers
The Lowdown on Boston Properties' High EV-to-EBITDA: Investor Takeaways
Now for the Nitty-Gritty: How to Invest in Boston Properties through ETFs