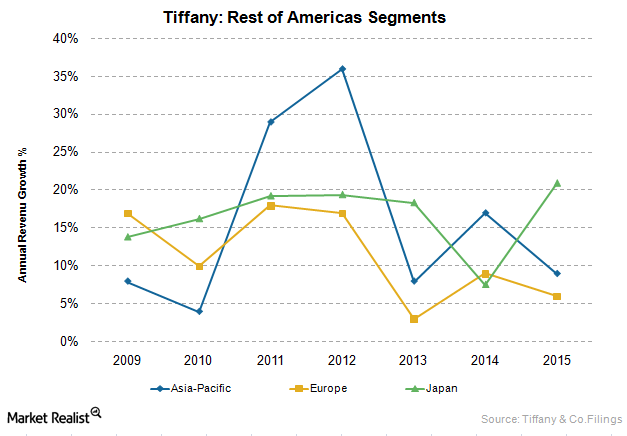 Analyzing Tiffany & Co.'s International Segments
Tiffany & Co.'s international segments
Article continues below advertisement
Asia-Pacific
Sales come from company-operated stores, internet sales, and wholesale distribution
73 retail stores, mainly in China, Korea, and Hong Kong, as of the end of fiscal 2015
Represented 24% of total revenue in fiscal 2015, with Greater China contributing more than 50% for the region
Earnings from operations represented 23.3%, 25.8%, and 27.5% of net Asia-Pacific sales for fiscal 2013, 2014, and 2015, respectively
Japan
Sales come from company-operated stores, internet sales, business-to-business sales, and wholesale distribution
56 company-operated Tiffany stores at the end of fiscal 2015
Accounted for 13% of total company revenue
Earnings from operations represented 32%, 37.3%, and 35.4% of net Japan sales for fiscal 2013, 2014, and 2015, respectively
Article continues below advertisement
Europe
Sales come from company-operated stores and internet sales
38 company-operated stores at the end of fiscal 2015, mainly in the United Kingdom, Germany, and Italy
Accounted for 12% of total revenue, whereas the United Kingdom represented 40% of total European sales
Earnings from operations represented 21%, 21.5%, and 21.7% of net Europe sales for fiscal 2013, 2014, and 2015, respectively
Other
The company's Other segment includes operations in emerging markets, which represent 75% of the segment's total sales. It also includes wholesale sales of diamonds, which involves the purchasing and conversion of rough diamonds to polished stones. Sales of rough diamonds have been reducing Tiffany's overall gross margin.
Peer group comparison
Tiffany's major peer in the jewelry industry (XRT), Signet Jewelers (SIG), has a presence mainly in the United States, which represented 86.8% of Signet's total revenue in fiscal 2015.
Tiffany's peer Fossil (FOSL) has presences in the United States, the Asia-Pacific region, Japan, Europe, and other countries.