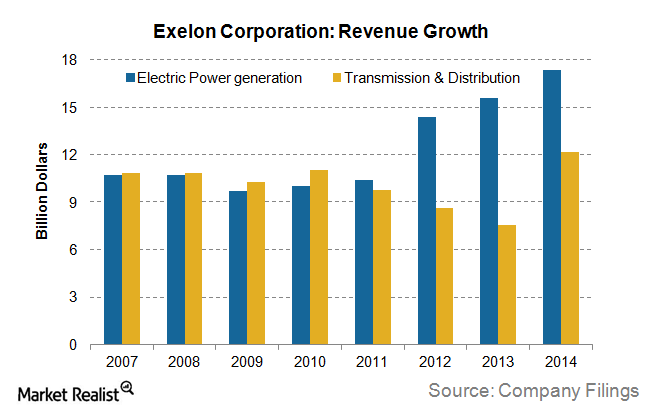 Analyzing Exelon's Key Revenue Drivers
Revenue growth
Demand growth for electricity in the last decade has been sluggish due to increasingly energy-efficient devices and equipment. However, Exelon's (EXC) revenues grew at an annual rate of ~9% in the last five-year period.
Article continues below advertisement
Merger with Constellation Energy
In March 2012, Constellation Energy merged with Exelon, and since then, Exelon Generation includes Constellation Generation and its customer supply operations. Exelon's revenue growth rose after the merger. This reaffirms that Exelon's growth in the recent past came from mergers and acquisitions.
Baltimore Gas and Electric has also been significantly contributing to total revenues beginning in 2012. The company serves 1.2 million electric and 65,000 natural gas customers in Baltimore through its transmission and distribution lines that span over 26,000 miles.
Despite the slow growth of the sector, Exelon was able to generate the highest revenues among its peer group due to its diversified geographical presence. The company reported $27 billion in revenues in 2014. In comparison to its peers, American Electric Power (AEP) clocked $17 billion in revenues in 2014 while PPL (PPL) posted $11.5 billion in revenues. In the same period, Southern Company's (SO) revenues were $18.6 billion.
Cash flow from operations weakened
Due to the high fuel and purchased power costs, cash flow from operations weakened. The deregulated operations of a utility (IDU) particularly take a hit when fuel costs rise. Subdued demand was another factor in Exelon's falling operational cash.