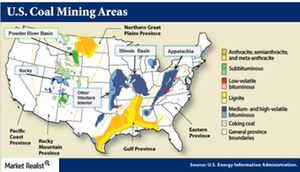 2015: A Year of Bankruptcies in the Coal Sector
Déjà vu
Patriot Coal (KOL) filed for bankruptcy under Chapter 11 of the United States Bankruptcy Code on May 12. This is the second time the company has filed for bankruptcy in the last three years. Subdued coal prices and subsequent erosion of liquidity are the primary reasons for the filing. In October 2015, the bankruptcy court approved the sale of the majority of Patriot Coal's assets to BlackHawk Mining. The Virginia Conservation Legacy Fund, a non-profit environment group, purchased some mines from Patriot Coal.
Article continues below advertisement
Walter Energy's bankruptcy
On Wednesday, July 15, Walter Energy (WLTG) filed for Chapter 11 bankruptcy, which passes control over the company to its senior creditors including bondholders and loan holders. Junior debt holders will have to let go of their claims. Moreover, bankruptcy will lead to a leaner structure, reducing labor and pension costs. The company is planning to auction its assets on January 5. A group of lenders has offered to exchange $1.3 billion in debt and $5.4 million in cash for Walter Energy's assets.
Alpha Natural Resources' bankruptcy
Soon after Walter Energy, Alpha Natural Resources followed suit. Alpha Natural Resources (ANRZ) filed for bankruptcy on Monday, August 3, 2015. In our series Industry Overview: The shifting sands of US coal production, published in October 2014, we highlighted the inherent risks that may push the company into bankruptcy. The company is planning for resolution of bankruptcy through asset sales.
Arch Coal (ACI) has narrowly escaped bankruptcy in 2015 so far. However, it may happen anytime, considering the dilapidated situation of Arch Coal's finances. Cloud Peak Energy (CLD), Alliance Resource Partners (ARLP), and Westmoreland Coal (WLB) are likely safer picks in the sector.