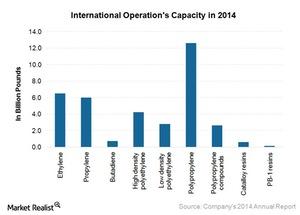 Analyzing LyondellBasell's Largest Segment
By Steve Ariel

Dec. 1 2015, Updated 10:07 a.m. ET
Segment overview
LyondellBasell's (LYB) Olefins and Polyolefins: Europe, Asia, International (or O&P EAI) segment manufactures olefins and polyolefins for international markets. LYB is Europe's leading manufacturer of olefins and polyolefins. LYB is also the largest producer of the polypropylene, polyethylene, and polypropylene compound in Europe. This segment contributed 33% to total revenue while it contributed only 19% to the company's total EBITDA in 2014.
Article continues below advertisement
Capacity addition from joint ventures
LYB has done many joint ventures in Saudi Arabia, Thailand, Poland, Australia, Japan, and South Korea to increase its global presence and overall capacity. The company doesn't have the controlling interest in any of the JVs. However, these JVs provide LYB with additional production capacity (based on the equity interest in the JVs) of 2.6 billion pounds of polypropylene, 0.8 billion pounds of propylene, 0.6 billion pounds of ethylene, 0.6 billion pounds of high density polyethylene, 0.3 billion pounds of low density polyethylene, and 0.2 billion pounds of polypropylene compounds. LYB reports income from these ventures under income from equity investments.
Favorable shift in raw materials
Flexibility in terms of feedstock also helps the company maintain its competitive cost advantage. The company's Europe-based facilities mainly operate on heavy liquids feedstock such as crude-oil-based naphtha. However, in recent years, Lyondell Basell has increased the consumption of low-cost shale gas-based-feedstock for its Europe-based facilities. In 2014, LyondellBasell manufactured 53% of its total segment ethylene output using low-cost feedstock. Overall, LYB has increased the usage of cheaper feedstock for more than 50% of its European operations. With the use of low-cost raw materials, the segment's EBITDA margins increased from 5.7% in 2011 to 9.2% in 2014.
Higher operating rates and better product mixes have also helped EBITDA margins to improve historically. In 2014, Lyondell Basell's Europe-based ethylene facilities operated at 95% of capacity, as compared to the industrial average of 83%.
Dow Chemical (DOW), INEOS, Sinopec (SHI), and Westlake (WLK) are the major players in olefins in the European and other international markets. Dow and LYB have EBITDA margins of 16.5% and 15.5%, respectively.
Investors can invest in chemical ETFs such as the Materials Select Sector SPDR Fund (XLB) and the iShares U.S. Basic Materials ETF (IYM). LYB forms 6.6% and 6.5% of XLB and IYM's total holdings, respectively.