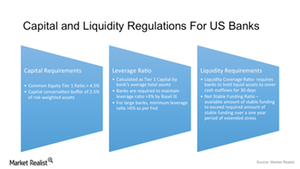 Understanding the Fed's Financial Regulations Post-2008 Crisis
By Rebecca Keats

Updated
Fed stepped in to supervise banks
After the financial crisis of 2008, the Federal Reserve stepped in to ensure safety and supervise the largest financial institutions as well as the overall strength of the financial system.
Of the 16 largest companies involved, eight US bank holding companies still hold 60% of assets in the US banking (KBE) system, thereby making them extremely important to the overall soundness of the financial economy.
The Federal Reserve thus oversees these institutions more closely than it does others due to the elevated risks they pose to the broader economy's financial stability. The most well-known of these institutions include the following:
Article continues below advertisement
Regulations aimed to enhance capital and liquidity
The Federal Reserve has since enforced regulations to enhance the capital strength and liquidity of 16 systematically important financial institutions. A bank's liquidity enables it to meet its current and future obligations, whereas capital refers to the funds within a bank that help it to absorb unexpected losses.
Banks are required to maintain adequate levels of capital and liquidity. Capital and liquidity standards are set by internationally accepted Basel III norms, but the Fed has raised these standards even higher for larger banks.
Banks are also required to conduct "stress tests," which are designed to verify whether they can operate in conditions similar to those that occurred during the financial crisis. At the same time, large banks are required to develop resolution plans to manage failure and reduce their chances under the Dodd-Frank Wall Street Reform and Consumer Protection Act.
The Act also gives the Fed responsibilities for safeguarding the stability of the financial system. For this purpose, the Fed created the Financial Stability Oversight Council, which has been designed to help US regulators work together more effectively to better promote the stability of the financial system.