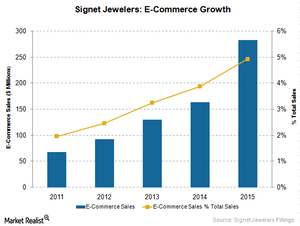 Why Signet Jewelers Prioritizes E-Commerce as a Growth Driver
The best digital ecosystem
The biggest challenge for traditional brick-and-mortar jewelers is the growing market share of online jewelry retailers. In 2015, customers have come to prefer experiencing merchandise assortments on a website or on social media before visiting brick-and-mortar stores to make purchases.
Signet Jewelry Limited (SIG) thus aims to educate its customers through its site jewelrywise.com. It likewise attempts to communicate with them via social media and to showcase its merchandise to them through its website. Signet acknowledges the value of e-commerce growth and its ability to drive and maximize its customers' in-store experiences. Signet has thus integrated its website with its stores, so customers can buy online and pick up at a store or get the delivery at a door.
In the graph below, Signet's fiscal 2015 e-commerce sales include $82 million of Zale's e-commerce sales.
Article continues below advertisement
Peer group comparison
Tiffany & Company (TIF) was likewise operating e-commerce websites in 13 countries at the end of fiscal 2015. Sales from these websites contributed 6% to the company's total revenues in fiscal 2014, 2013, and 2012. IBM's (IBM) WebSphere Commerce platform supports Fossil Group's (FOSL) e-commerce platform.
Signet and its peers have exposure in the iShares Russell 1000 Growth ETF (IWF) and in the iShares Core S&P 500 ETF (IVV). Together these companies make up 0.12% of the portfolio holdings of IWF and 0.19% of the holdings of IVV.
Signet's investments in technology
Signet aims to make the following investments in its ongoing e-commerce strategy:
to maintain an enhanced website for both desktop and mobile devices with improved user interface
to increase its range of merchandise assortment
to develop innovative online credit practices
to improve in-store broadband facilities in order to grow e-commerce sales
In April 2015, Kay Jewelers launched its brand on Pinterest and Instagram to improve its presence on social media platforms.
Virtual inventory model
Over the years, Signet has built a strong relationship with its suppliers. Signet follows virtual inventory model, which allows the company to display its suppliers' inventories on its website without actually holding the inventory. In this way, it can make a wider range of merchandise available for both online and in-store consumers.
Continue to the next part of this series for a look into Signet's marketing strategies and initiatives.