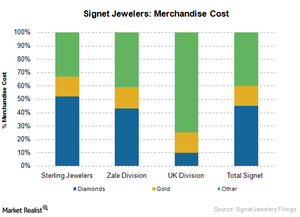 Signet Jewelers' Aim to Improve Vertical Integration and Supply Chain
By Diana Key

Updated
Raw materials
The main inputs for jewelry industry are diamonds, gold, and other precious and semi-precious metals and stones. At Signet Jewelers Limited (SIG), diamond and gold account for almost 45% and 15% of the cost of merchandise sold, respectively.
To minimize the risk of an increase in the cost of gold, Signet undertakes the hedging techniques, but it cannot hedge against the fluctuations in the cost of diamonds. Diamond prices have reduced as of November 2015 due to the economic slowdown in Asia and Middle East. But Signet expects an increase in the cost of diamond at low-to-mid-single-digit rates in 2016.
Article continues below advertisement
The increase in raw material prices may affect all Signet's industry (XRT) peers, including Tiffany & Company (TIF), Fossil Group (FOSL), and Pandora AS. Signet, Tiffany, and Fossil Group all have exposure in the iShares Russell 1000 Growth ETF (IWF). Together they make up 0.12% of the portfolio holdings of IWF.
Diamond sourcing
Signet buys diamonds mostly as finished jewelry, so the company doesn't have to maintain inventory held by vendors, which reduces the risk of deficient or excess inventory.
To a smaller degree, Signet buys diamonds in loose and rough form, thus providing the benefit of lower merchandise cost and uniform quality. Even the company's consumers get the advantage of understanding the complete cost structure and are in a position to negotiate for better prices.
Article continues below advertisement
Steps to vertical integration
Signet has been taking steps to advance vertical integration, including the sourcing and manufacturing of rough diamonds. It may help the company to improve its supply chain capabilities, but Signet already has a very well-integrated diamond supply chain, with a polished diamond buying office in India, a diamond polishing factory in Botswana, and a design center office in New York.
Raw material suppliers
In fiscal 2015, Signet's top five suppliers accounted for almost 16% of the company's total purchases, with the largest supplier contributing 4%. Signet buys from suppliers on a worldwide basis. Considering Signet's large scale, solid balance sheet, and strong procurement system, it appears to purchase its merchandise at the right prices and on favorable terms.
In the next part of this series, we'll look at consumer credit and sales at Signet's stores.