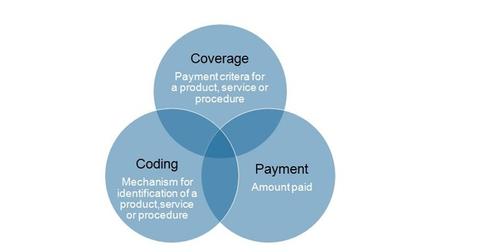 How Reimbursement Models Impact the Medical Device Industry
By Sarah Collins

Updated
Reimbursement and payment models
US healthcare payment systems are based on a fee-for-service model and consist of public payers such as Medicare and Medicaid as well as private third-party payers such as insurance companies. To find out more about the insurance industry, read An investor's guide to the insurance business.
The Centers for Medicare and Medicaid Services (or CMS), which administers Medicare and Medicaid programs, provides payment coverage for the majority of devices after approval from the US Food and Drug Administration (or FDA).
Article continues below advertisement
Key components of reimbursement
Coverage, coding, and payment are essential elements to obtaining adequate reimbursement for a new medical device. It is challenging for a medical device company to fulfill both the CMS criteria for novelty and superiority of the product and FDA approval criteria for safety and efficacy.
Importance of reimbursement
Reimbursement is an integral part of developing and marketing a medical device. Reimbursement strategy is imperative for acceptance and success of a device in the market.
It is crucial for a medical device company to obtain coverage and attract risk-averse investors. In the case of uncertainty of reimbursement for a particular device under development, securing funding becomes difficult. Also, whether a device is reimbursable or not and the cost of reimbursement are key factors that determine product demand and commercial success.
Article continues below advertisement
Affordable Care Act and reimbursement
The Affordable Care Act (or ACA) enacted in 2010, which aims at a shift from fee-for-service to value-based models, has led to the emergence of some new payment models such as pay for performance, shared savings, and bundled payments. Medical device companies find it more difficult to market their products due to increased scrutiny, increased coverage by public payers, and CMS taking into account cost perspective while evaluating medical devices for coverage. Additionally, an excise tax of 2.3% on sales of all medical devices has also impacted the profitability and the research and development (or R&D) spending of medical device companies.
Some of the companies that have been growing and sustaining margins despite the industry moving towards low-cost models and higher reimbursement scrutiny are Medtronics (MDT), Zimmer Biomet Holdings (ZBH), Intuitive Surgical (ISRG), and Edward Lifesciences (EW). One of the biggest ETFs tracking the sector is the iShares Dow Jones US Medical Devices ETF (IHI).