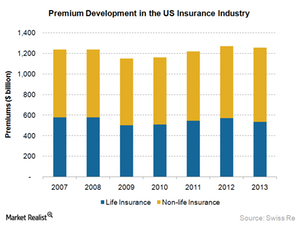 The US insurance industry: Largest in the world
High revenue volume
The insurance industry in the United States is the largest in the world in terms of revenue. Since 2011, the annual revenue of the industry, known as insurance premiums, exceeded the $1.2 trillion mark. Insurance premiums have grown at a modest pace after a dip in 2009 due to the financial crisis, which the industry was able to navigate in a resilient manner.
Despite its high premium volume, the United States falls short of the top ten countries in terms of insurance density, measured as premiums paid per capita of population toward insurance. This could be good news, as it indicates room for growth for the industry.
Article continues below advertisement
Major players
The US insurance industry consists of some of the biggest players in the world. The larger insurance companies by market capitalization include AIG (AIG), MetLife (MET), Prudential Financial (PRU), and Allstate (ALL). While MetLife (MET) and Prudential Financial (PRU) top the chart of life and health insurers in terms of premiums written, State Farm, Liberty Mutual, and Allstate (ALL) are among the top players in the property and casualty space in the United States.
Insurers play a key role
Insurance companies are an important part of the financial services sector in the United States. The industry contributes close to 40% GDP of the financial institutions and employs more than 2 million people.
For the stock market, the insurance industry represents a significant part of the S&P 500 index and the SPDR S&P 500 ETF (SPY), with around 15 companies in the index and several other companies listed on the US stock exchanges.
The market performance of insurer types shows that while property and casualty insurers outperformed the market over the last year, life insurers fell short of the performance of the broader market.