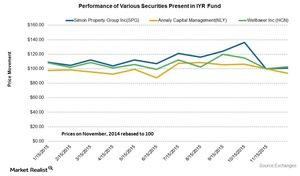 REITs as an Investment Vehicle
By Steve Sage

Dec. 4 2020, Updated 10:52 a.m. ET
Why may investors choose REITs as an investment vehicle?
Investment in real estate has always been a topic of concern for investors due to the volatility involved in the investments. REITs have recently become a popular investment tool to provide limited-time exposure to real estate for investors who cannot make significant investments.
The view of every individual investor seems to be different. Some opt for REITs for an income-producing purpose, while others may see things from a total return perspective.
Article continues below advertisement
Selecting REITs: An individual choice
In recent years, investors have witnessed that REITs with poor balance sheets, lack of tendency to grow, and poor management skills appear to have taken hits, whereas REITs with clear balance sheets, consistent growth, and proper management transparency have held their ground and established themselves over the years.
The struggle of REITs has been consistent with the interest rate, with tendencies for high and low growth in accordance with the interest rate. Selecting REITs can be based on factors such as:
high yield
balanced yield
growth and income
The search to select the perfect REIT for a portfolio can be further narrowed by incorporating personal preferences and factors to suit one's investments:
type of property owned
management skills and style
creditworthiness of the investor
dividend distribution
past performance
cost of capital
diversification
time horizon
How REITs react to different scenarios
The iShares US Real Estate ETF (IYR) can be used to explain how different groups react to factors affecting the economy. The benchmark index for IYR is the Dow Jones U.S. Real Estate Total Return Index (DJUSRET), and its performance is compared to the SPDR S&P 500 ETF (SPY).
Mortgage REITs: Annaly Capital Management (NLY) is most vulnerable to changes in interest rates.
Retail REITs: Simon Property Group (SPG) is most vulnerable to changes in the economic cycle. Adjusted sales in October rose by 0.1% month-over-month and by 1.7% on a year-over-year basis. Core retail sales (excepting automobiles) came in at 0.2% month-over-month and 0.5% on a year-over-year basis.