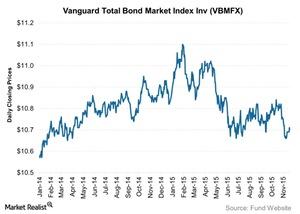 Investment-Grade Bond Yields Fell after the FOMC's Meeting Minutes
By Lynn Noah

Updated
Investment-grade bond yields
Investment-grade bond yields fell slightly in the week ending November 20 after the release of the October 27–28 FOMC (Federal Open Market Committee) policy meeting minutes on November 18. The minutes indicated the possibility of some gradual tightening in the monetary policy during the Fed's next meeting. The meeting will be held on December 15–16.

Article continues below advertisement
Economic indicators
The release of the following economic indicators impacted investment-grade bond yields.
The CPI (consumer price index) data released on November 17. The CPI rose 0.2% YoY (year-over-year) in October. This supports the Fed's rate hike decision. However, the Fed prefers to use the PCE (personal consumption expenditure) index over the CPI to guide its decisions. The PCE updates more often. Also, it takes other factors into account like employer expenditures on healthcare and the substitution between goods. The CPI is based on what people say they're buying. It isn't updated often.
Housing starts and building permits data were released on November 18. Housing starts fell 11.0% month-over-month to 1.1 million units. New building permits rose by 4.1% month-over-month to 1.2 million units.
Yield movement
Corporate bond yields, as seen by the BofA Merrill Lynch US Corporate Master Effective Yield, ended at 3.5% on November 20—one basis point down from the previous week.
The Vanguard Total Bond Market Index Fund – Investor Class (VBMFX) provides broad exposure to US investment-grade bonds. VBMFX invests in investment-grade corporate bonds of companies like Apple (AAPL), Walmart (WMT), Bank of America (BAC), AT&T (T), and Oracle (ORCL). VBMFX's weekly returns were 0.12%.
In this series, we'll look at investment-grade corporate debt issuance for the week ending November 20 in more detail. First, let's look at how yields on corporate bonds fared, so far, in 2015.