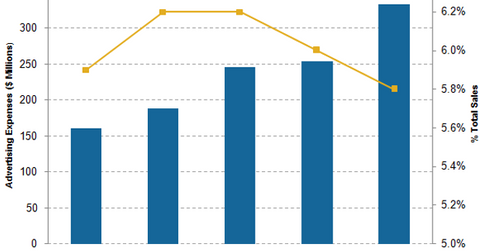 Evaluating Signet Jeweler's Marketing Strategies and Initiatives
By Diana Key

Nov. 26 2015, Updated 5:05 p.m. ET
Multi-channel marketing strategy
In the jewelry industry (XRT), most of the merchandise available is unbranded. But Signet Jewelers Limited's (SIG) well-known, exclusive, and differentiated brands aim to influence consumers in their buying decisions. Its Sterling Jewelers stores, for example, provide 32% branded assortments. To strengthen its brands further, the company focuses on a superior customer service and its brand recognition policy.
Article continues below advertisement
Signet has been known for its outstanding consumer experience. The company has also employed a statistical and technology-based system in partnership with IBM (IBM) in order to support its customer-related initiatives. This partnership has helped Signet build consumer loyalty while developing a strong relationship with them through communication via mail, telephone, and social media platforms.
Marketing and advertising
Unlike the broader industry, Signet tends to focus on promotions through the following strategies:
using various marketing channels that promote brands, including television, radio, digital, print, catalog, direct mail, telephone marketing, a point-of-sale signage, in-store display, coupon books, and outdoor signage
spending the majority of its marketing and advertising expenses on national television
developing the most effective and cost-efficient forms of marketing, whether via national television advertising, digital media, or customer relationship marketing
Signet has been increasing its advertising expenses. In fiscal 2015, the company reported the advertising expenses of $333 million, 5.8% of the company's total sales. Tiffany & Company (TIF), by comparison, spent only 6.7% of its sales on advertising, marketing, public, and media relations, whereas Fossil Group (FOSL) spent 6.6% of its sales on advertising.
Signet, Tiffany, and Fossil Group all have exposure in the iShares Russell 1000 Growth ETF (IWF) and the iShares Core S&P 500 ETF (IVV). Together these companies make up 0.12% of the portfolio holdings of IWF and 0.19% of IVV.
Key marketing initiatives
Signet has adapted the marketing test initiative under which, when the company is on television, its radio and print media support the work outside, resulting in a continuity of Signet brands in the minds of customers. Its key marketing initiatives include the following:
the application of learning from consumer segmentation
Zale's new creative TV campaign, "Diamond Kind of Love"
semi-annual special events launching new products at Jared
In the next part of this series, we'll look further into the role of exclusive merchandise in Signet's stores.