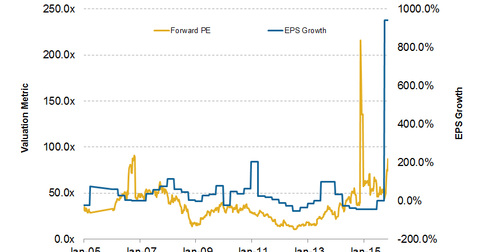 How Does Ctrip's Valuation Compare to Its Peers?
By Ally Schmidt

Updated
Forward PE ratio
Previously in this series, we looked at Ctrip International's (CTRP) 3Q15 results released on November 19, 2015. We also looked at how analysts changed their estimates after the release. In this final part of the series, we'll look at the company's valuation compared to its peers.
We'll use the forward PE (price-to-earnings) and forward EV-EBITDA (enterprise value to earnings before interest, taxes, depreciation, and amortization) multiple to gauge CTRP's valuation. A forward PE ratio is calculated by dividing the company's current stock price by the earnings estimate for the next 12 months.
Article continues below advertisement
Ctrip's valuation multiple
Following Ctrip's earnings release, the stock rose 16%. As a result, its valuation multiple also increased by 18%. What follows is a breakdown of the company's PE multiple:
As of November 20, 2015, CTRP's forward PE ratio stood at 87.53x.
Ctrip's PE ratio is at a deep discount to its all-time high valuations of 216x seen about a year ago and significantly higher than all-time lows of 10.59 seen in July 2012.
Media reports expect Ctrip to acquire a stake in Tuniu (TOUR), one of the major Chinese rivals in which Ctrip still doesn't have a stake. If confirmed, Ctrip's valuation could see another boost.
In the week ended November 13, 2015, MSCI declared inclusion of Chinese ADR's (American depositary receipts) in its indexes. This is will give another boost to prices, and ETFs and mutual funds could end up buying CTRP shares to match the index.
Rivals TripAdvisor (TRIP), Priceline (PCLN), and Expedia (EXPE) are valued at 38.64x, 19.49x, and 23.46x, respectively. However, these are not strictly comparable peers, as the companies operate in different geographies and models.
While PE ratio is used widely because of its simplicity, the measurement has some disadvantages. For example, earnings can be easily manipulated, thus making the PE ratio meaningless. So we'll compare these companies on a forward EV-EBITDA multiple.
Forward EV-EBITDA ratio
As of November 6, 2015, CTRP had a forward EV-EBITDA ratio of 53.34, which was lower than its average of 70x. This multiple is higher than Expedia's forward EV-EBITDA multiple of 12.42x, Priceline's multiple of 15.51x, and TripAdvisor's multiple of 22x during the same period.
Ctrip International (CTRP) is one of the top ten holdings of the CSI China Internet ETF (KWEB), with 9.1% of the portfolio.