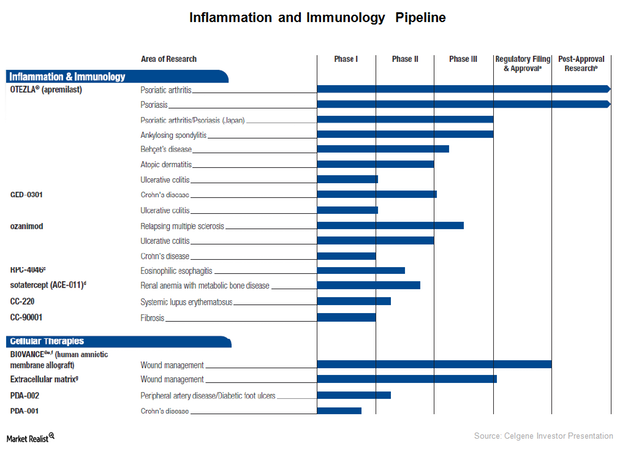 Celgene Has a Strong Inflammation and Immunology Pipeline
By Margaret Patrick

Nov. 13 2015, Updated 11:06 a.m. ET
Inflammation and immunology pipeline
In 3Q15, Celgene (CELG) had a strong inflammation and immunology (or I&I) pipeline. The company witnessed the progress of its key investigational drug GED-0301 in Phase 3 trials for Crohn's disease. Ozanimod, a major I&I drug obtained through the company's Receptos acquisition, is also being explored in late-stage trials for ulcerative colitis and multiple sclerosis.
To know more about Celgene's I&I research pipeline, please refer to Celgene's Growing Inflammation and Immunology Pipeline.
Article continues below advertisement
GED-0301 clinical trials
Celgene initiated its first pivotal Phase 3 trial, CD-002, for GED-0301 in 3Q15. This study spans 52 weeks and has a primary end point at the end of week four, when disease remission will be calculated with the Crohn's Disease Activity Index (or CDAI).
The second pivotal Phase 3 trial, also testing GED-0301 for Crohn's disease, is expected to commence in early 2016 and to conclude with CD-002.
CD-001, an endoscopy study of GED-0301 for Crohn's disease, is expected to release important data in 2017. Additionally, by the end of 2015 Celgene also plans to commence a proof-of-concept trial for the drug's treatment of ulcerative colitis.
Expected to be launched in 2019, GED-0301 is expected to become a blockbuster Crohn's disease therapy for Celgene. If approved, GED-0301 will become a tough competitor for existing anti-inflammatory drugs for Crohn's disease such as AbbVie's (ABBV) Humira, Johnson & Johnson's (JNJ) Remicade (through subsidiary Janssen Pharmaceutical), and Biogen's (BIIB) Tysabri.
Article continues below advertisement
Ozanimod
Celgene has completed its registration of test subjects for Phase 3 trials RADIANCE and SUNBEAM, which will test the use of Ozanimod for the treatment of multiple sclerosis.
The company also presented 32-week maintenance results from its Phase 2 TOUCHSTONE study of Ozanimod for the treatment of ulcerative colitis. The data has demonstrated that Ozanimod displays high efficacy and a strong safety profile when delivered to patients in the long term.
Celgene is also focusing on the Phase 3 trial TRUE NORTH and the Phase 2 trial STEPSTONE, testing Ozanimod for the treatments of ulcerative colitis and Crohn's disease, respectively. If proven successful in these indications, Ozanimod is expected to earn peak sales in the range of $4 billion–$6 billion.
Instead of directly investing in Celgene and being exposed to excessive company-specific risks, you can invest in the company through the iShares S&P 500 Growth ETF (IVW). Celgene accounts for 0.9% of IVW's total holdings.