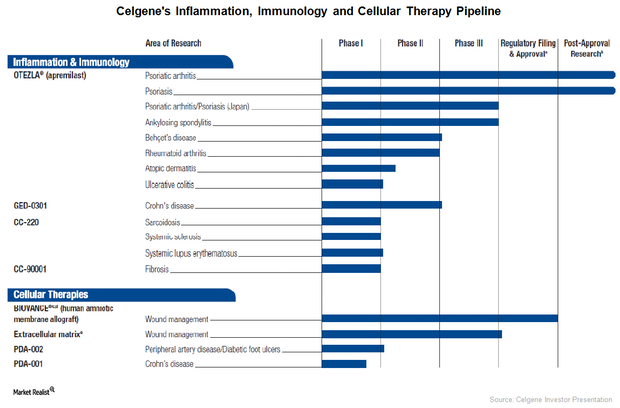 Celgene's Growing Inflammation and Immunology Pipeline
The inflammation and immunology pipeline
Celgene Corporation (CELG) has entered the inflammation and immunology drug market in order to reduce its business concentration and the risk of being excessively dependent on multiple myeloma drugs. The company has set a target of crossing $3 billion in revenues for inflammation and immunity by 2020. The graph below shows Celgene's research pipeline for the inflammation and immunity market, as well as for the cellular therapies market.
Article continues below advertisement
Article continues below advertisement
Inflammation and immunology
After the FDA's (Food and Drug Administration) approval in March 2014, Celgene's Otezla, a psoriasis and psoriatic arthritis drug, has rapidly gained market share. According to WebMd, psoriatic arthritis "causes inflammation in your joints" and happens when "your immune system is overactive." For the most part, psoriatic arthritis affects "people who have psoriasis, a skin disease that's also related to the immune system."
In the US psoriasis market—a market dominated by AbbVie's (ABBV) Humira, Novartis's (NVS) Cosentyx, and Pfizer's (PFE) Enbrel—Otezla has managed to garner an ~18% market share. In January 2015, the European Commission approved Otezla, thus paving the way for its entry into the European market. The drug is also in phase III clinical trials for approval in the Japanese market, and Celgene is exploring Otezla for other inflammatory diseases such as ankylosing spondylitis, Behcet's disease, rheumatoid arthritis, atopic dermatitis, and ulcerative colitis.
Article continues below advertisement
Celgene is also exploring the Crohn's disease market with a drug called GED-0301. WebMd describes Crohn's disease as "a lifelong inflammatory bowel disease" that causes parts of the digestive system to "get swollen and have deep sores called ulcers." Expected to launch in 2019, GED-0301 is currently in its phase III clinical trial phase. If successful, this drug is expected to be one of the company's blockbuster therapies.
Celgene also has other promising drugs, such as CC-220 and CC-90001 (for sarcoidosis and fibrosis, respectively), in early phases of its research pipeline.
Cellular therapies
Celgene has also entered cellular therapy research for wound management, foot ulcers, and Crohn's disease. This research mainly involves working on stem cells from the placentas of healthy mothers to develop innovative drugs.
Investors can get exposure toCelgene's inflammatory, immunology, and cell therapy pipelines while avoiding unique company risks by investing in the iShares NASDAQ Biotechnology ETF (IBB). Celgene makes up 8.66% of IBB's total holdings.