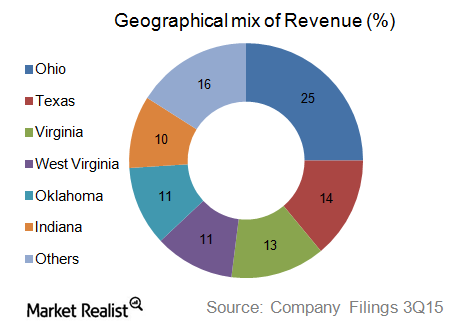 American Electric Power's Balanced Geographical Revenue Mix
Revenue analysis
With one of the nation's largest, most efficient, and innovative electricity generation fleets, American Electric Power (AEP) operates in 11 states of the Unites States, with major business operations in Ohio. In this part of the series, let's discuss AEP's diversified geographical revenue mix.
Article continues below advertisement
Revenue mix
AEP has a geographically diversified market combination, with a major chunk of its revenue coming from its homeland Ohio. Kentucky, Tennessee, Louisiana, Michigan, and Arkansas are comparatively smaller markets for AEP, collectively contributing 16% of total revenue. AEP also has a balanced portfolio in terms of the customer class it caters to.
Regulated operations form a major part of AEP's revenue, accounting for 42%. The company's reliance on regulated business offers stability to its cash flows and enhances capital distribution, which ultimately boosts shareholder value.
Wholesale customers contribute nearly 15% to revenue. Considering revenue by customer class, Wholesale is considered more of a risky segment, providing unstable business but offering windfall gains when demand is high.
AEP clocked $17 billion in revenues in 2014, while PPL (PPL) posted $11.5 billion in revenues. In the same period, Southern Company's (SO) revenues were $18.6 billion. These companies collectively account for ~15% of the iShares US Utilities ETF (IDU).
Weather's impact on revenues
Weather plays an important part in driving the revenues of energy utilities (XLU). During the summer, demand rises in order to cool down homes, and during the winter, demand rises due to heating requirements.
Weather reports carry immense importance for utility companies, as companies base their daily power generations on a load forecast of power demand for their native perspective load regions. This load forecast is a model of the relationship of power demand, time of day, season, and weather. Hence, one can see huge ups and downs in utility shares based on weather reports.