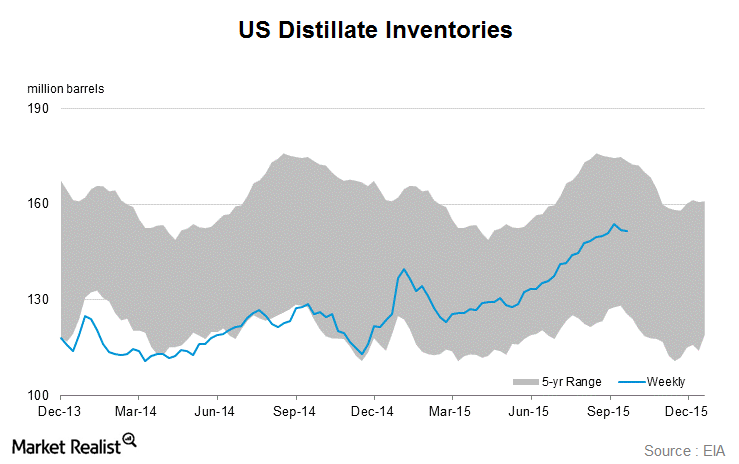 US Distillate Inventories Were Down Less than Expected Last Week
By Keisha Bandz

Dec. 4 2020, Updated 10:52 a.m. ET
US distillate inventories
The EIA (US Energy Information Administration) released its weekly Petroleum Status Report on Wednesday, September 30. The report said that US distillate inventories fell by 0.3 MMbbls (million barrels) to 151.6 MMbbls in the week ending September 25. Analysts' expectations had called for a decrease of 800,000 barrels. Inventories fell for the first time since May 15 in the week ending September 18.
Article continues below advertisement
What this means
When inventories fall less than expected, it is usually bearish for distillate prices. Lower prices may cause refiners such as Tesoro (TSO) and Valero Energy (VLO) as well as refining MLPs such as Northern Tier Energy (NTI) to reduce production of distillates.
Together, Tesoro and Valero account for ~3.5% of the Vanguard Energy ETF (VDE). Lower distillate prices mean lower revenue for these refiners. However, for refiners to see lower profits, crude oil prices (USO) will need to remain steady or rise.
A decline in production volumes for distillates is negative for MLPs such as Tesoro Logistics (TLLP) and Valero Energy Partners (VLP), as they transport refined products. These MLPs stand to make less money by transporting lower volumes.
Last week, inventories saw a less-than-expected drop, which implies that demand was less than anticipated or that supply was more than anticipated. These scenarios are bearish for distillate prices.
In contrast, if inventories drop more than analysts' expectations, it implies that the demand was more than anticipated or that the supply was less than anticipated. This is bullish for distillate prices.
You can follow our weekly recap of diesel prices at Market Realist's Energy and Power page. The latest report is available at What Drove US Diesel Prices Higher Last Week?
Background
Distillates are an important group of fuels used for purposes ranging from transportation to heating. Distillate inventories, as discussed above, can drive distillate prices. Distillate demand also drives crude oil demand and crude oil prices, so energy investors watch distillate inventories closely.