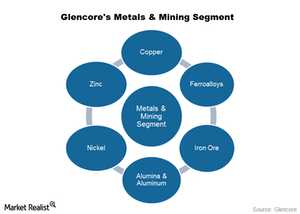 Understanding Glencore's Metals and Mining Business
Metals and mining business
Previously, we've discussed how Glencore's (GLNCY) operations are spread around the world. Now, we'll learn more about the company's metals and mining segment. The segment was the second-biggest contributor to Glencore's 1H15 revenues. Trading activity contributed ~60% of these revenues while the remaining came from industrial activities. As discussed previously, apart from production activity, Glencore is also engaged in the commodity trading business. Currently, Glencore forms 2.2% of the SPDR S&P Global Natural Resources ETF (GNR).
Article continues below advertisement
Product portfolio
Glencore produces copper, zinc, aluminum, lead, nickel, iron ore, and ferroalloys.
Copper: Glencore is the largest copper supplier and the third-largest producer of mined copper. CODELCO and Freeport-McMoRan (FCX) are the top two copper producers. Glencore's copper mines in Congo also produce cobalt as a by-product.
Zinc: It is the largest zinc ore producer. Along with zinc, the company also mines gold and silver, which are produced as a by-product in copper and zinc mining. Glencore sells zinc and lead processed by its own subsidiaries as well as parties under tolling structure.
Nickel: Glencore is into nickel production as well as trading.
Ferroalloys: Glencore deals in several ferroalloys. It is also one of the largest integrated ferrochrome producers and a leading vanadium producer.
Alumina and aluminum: Glencore has bauxite, alumina, and aluminum smelting operations. Glencore's subsidiary, Century Aluminum (CENX), is among the major aluminum producers in the United States.
In the next part of this series, we'll learn about the metals and mining segment's key financials.