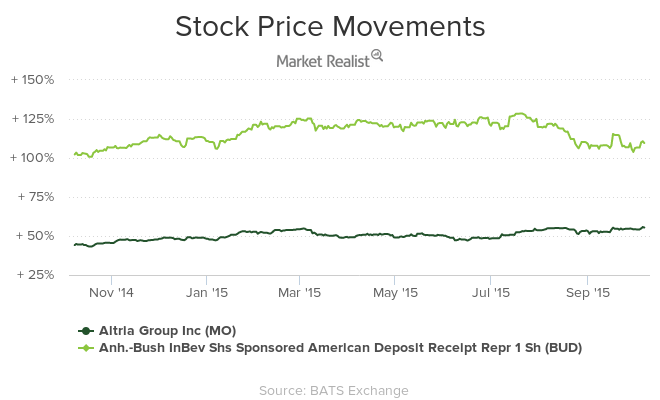 Why SABMiller Rejected 3 Anheuser-Busch InBev Bids
By Phalguni Soni

Dec. 4 2020, Updated 10:53 a.m. ET
Why SABMiller opposes Anheuser-Busch InBev's bid
As mentioned in Part 1 of this series, SABMiller (SBMRY) (SAB.L) has rejected all three bids made by Anheuser-Busch InBev (BUD) (AHBIF) (ABI.BR), or ABI.
According to SABMiller's chairman Jan du Plessis, "AB InBev needs SABMiller but has made opportunistic and highly conditional proposals, elements of which have been deliberately designed to be unattractive to many of our shareholders. AB InBev is very substantially undervaluing SABMiller."
[marketrealist-chart id=710712]
Article continues below advertisement
Stock price trend
According to SABMiller, ABI's bids were timed to take advantage of the recentl lower trend in SABMiller's stock price, and "very substantially undervalue SABMiller and its standalone prospects and growth potential."
The partial shares option structured with ABI's proposal is not an advantageous option for many of SABMiller shareholders, due to the illiquidity of the restricted shares proposed to be issued by ABI under the option. We discussed this option in the last article.
Plus, SABMiller's board believes that ABI's proposals don't sufficiently address the issue of the regulatory flags likely to be raised in the key markets of the US and China. You can read more about these headwinds in Part 8 of this series.
SABMiller's stock price on the London Stock Exchange had lost about 17.7% of its value in the 12 months leading to September 15, 2015. From September 15–October 7, 2015, SAB.L was up by 20.5%. ABI's public bid of 42.15 pounds per share, which values SABMiller at $104 billion, didn't move the stock much. SAB.L gained just 0.3% to close at 3,633 pence on October 7, the day the bid was made public.
ABI's response to SABMiller's refusal
On October 8, ABI issued a statement in response to SABMiller's rejection of ABI's third bid of 42.15 pounds. ABI stated that the refusal lacks "credibility" for several reasons:
On September 14, there was an implied 44% premium over that day's trading price of SABMiller.
The public support of Altria (MO), SABMiller's largest shareholder, for ABI's bid. Altria has three representatives on SABMiller's board and hasn't supported SABMiller's rejection of ABI's offer of 42.15 pounds.
ABI has already prepared proposals to overcome regulatory hurdles and would be willing to "share its analysis" with SABMiller, but each time the board of SABMiller "has refused to engage."
Altria constitutes 1.3% of the portfolio holdings in the iShares Select Dividend ETF (DVY).
The next article discusses Altria's support of ABI's bid.