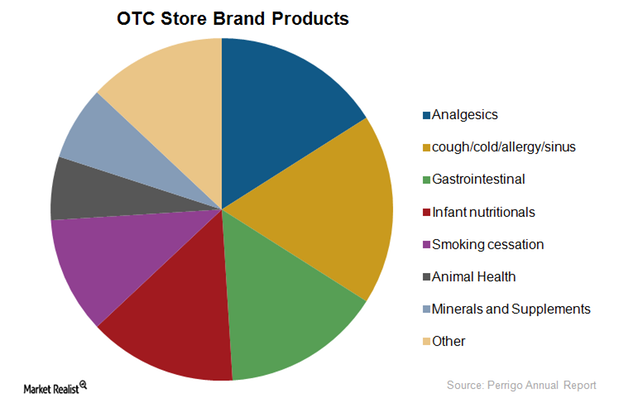 Perrigo Leads the Over-the-Counter Store-Branded Products Market
OTC store-branded products
Perrigo (PRGO) is a market leader in over-the-counter (or OTC) store-branded products including cough, cold, and allergy products, gastrointestinal products, analgesics, infant food, products, vitamins, animal health products, and diagnostic products. The company's leadership position extends to major geographies such as the United States, the United Kingdom, and Mexico.
The above diagram shows the 2015 revenue breakdown of Perrigo's consumer healthcare business from its OTC store brand products.
Article continues below advertisement
OTC store-branded product business
Perrigo's consumer healthcare business is responsible for developing, manufacturing, and marketing branded store products. These products are comparable in quality to national brands and meet the U.S. Food and Drug Administration (or FDA) requirements.
Store-branded products usually cost substantially less to the retailer than comparable national products. In this way, retailers can price these products at lower prices than they do the national products and still enjoy higher profit margins. Customers benefit from this model, as they get access to high-quality products at low price points.
OTC store-branded product customers
Perrigo offers OTC products to global, national, and regional retailers such as Walmart, CVS, Walgreens, Kroger, and Target as well as major wholesalers such as McKesson, Cardinal Health, and AmerisourceBergen.
Despite tough competition from peers such as Johson & Johnson (JNJ), Pfizer (PFE), and Eli Lilly (LLY) in the OTC pharmaceuticals, nutritional products, and infant formula categories, Perrigo has managed to maintain its market share due to effective sales and marketing strategies.
The company uses a specialized sales force for marketing and servicing large customers, while industry brokers are used for small retailers. In the case of animal healthcare products, the company is also involved in direct-to-consumer advertising, while infant formula is marketed to consumers as well as healthcare professionals.
You can get exposure to Perrigo's consumer healthcare business while avoiding excessive risks by investing in the Health Care Select Sector SPDR ETF (XLV). Perrigo accounts for 0.90% of XLV's total holdings.