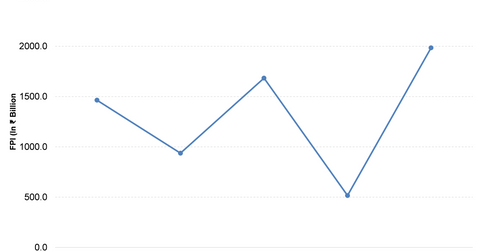 Overview: Last 5 Years of Foreign Portfolio Investment in India
By Pete Raine

Updated
The story so far
The FPI (foreign portfolio investment) in a stock market refers to the net investment—that is, gross purchases minus gross sales. The FPI values considered here include both the equity and the debt segments.
In fiscal 2015 (April 2014 to March 2015), the Indian government took several measures to boost foreign investments. The government's endeavors included attempts to clarify the tax treatment of gains in securities market transactions as well as the retrospective tax treatment.
Article continues below advertisement
As we saw in the previous article of this series, fiscal 2013 was the lowest in terms of market capitalization in the past five years. However, the foreign portfolio witnessed impressive growth of about 80% in fiscal 2013 over the previous year. In fiscal 2014, the FPI fell sharply— about 69% over the previous year. It rose again by 284% in fiscal 2015.
In fiscal 2013, although the FPI rose by 80%, FDI (foreign direct investment) fell by about 25%. As opposed to FPI, FDI is an investment into a company rather than just its traded equities. Foreign investors seemed to lose interest in India's business environment during that period. So FPI was preferred, which provided a quicker turnover.
A breakup between equity and debt
The following graph shows the foreign portfolio investments in the equity and debt segments separately. The data for the last five years show that the net FPI investment has been more in equity rather than in debt, except for the year 2011–12 and the period between April 2014 and December 2014.
The rise and fall in foreign investments were influenced by global factors, especially US markets. The Wasatch Emerging India Fund (WAINX) and the ALPS Kotak India Growth Fund (INDAX) are mutual funds that provide exposure to Indian equities. These funds invest in the financial sector (IBN) (HDB) and information technology companies (INFY)(WIT).