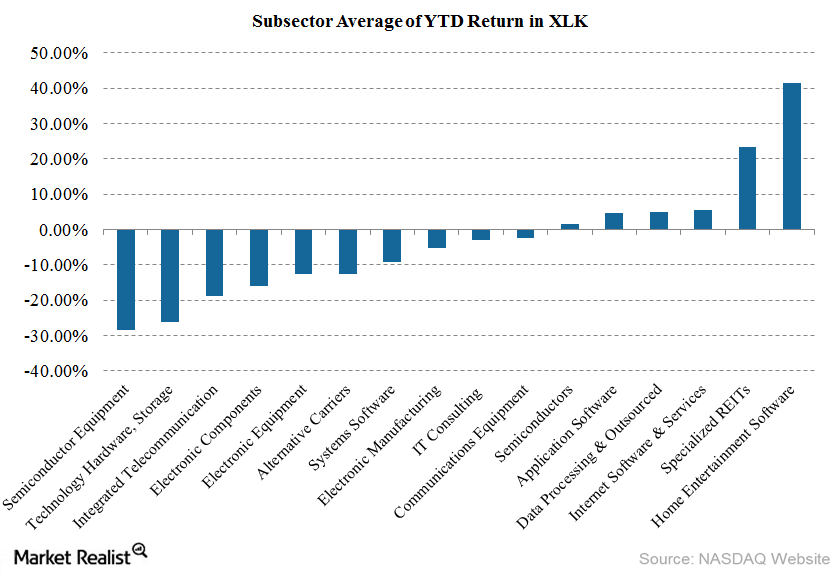 Macroeconomic Factors Affecting Technology Stock Performance in 2015
Overview
In this series, we'll analyze the YTD (year-to-date) performances of two exemplary firms in the Technology, Hardware, Storage, and Peripherals subsector—Western Digital Corporation (WDC) and NetApp (NTAP)—that have exposure in the Technology Select Sector SPDR ETF (XLK).
As of October 2, 2015, XLK generated YTD returns of -3.21% to close at $40.08. We'll examine some factors affecting these results by analyzing the performances of Western Digital and NetApp.
Article continues below advertisement
Subsector performance
In the above chart, we can see that the Semiconductor Equipment performed the worst of the group, generating YTD returns of -28.52%, followed by the Technology and Integrated Telecommunications subsectors, which saw returns of -26.04% and -18.95%, respectively.
Subsectors that outperformed XLK include Specialized REITs (real estate investment trusts), Internet Software and Services, and Home Entertainment Software, which saw YTD returns of 23.31%, 5.41%, and 41.42%, respectively.
In terms of individual stocks, Electronic Arts (EA) generated maximum YTD returns of 41.42%, followed by Total Systems Services and Altera Corporation at 36.07% and 35.76%, respectively. Yahoo! (YHOO), Micron Technology (MU), and SanDisk Corporation (SNDK) generated negative YTD returns of -39.20%, -54.56%, and -39.19%, respectively.
Choppy trading since 2Q15
Since the 2Q15 earnings season, the technology sector has seen choppy stock trading. ETFs have also seen a fall in prices. Compared to 2Q14, the technology sector is expected to see lower earnings on a YoY (year-over-year basis). While this sector saw a 6.2% growth in earnings for 1Q15, the sector is expected to fall by 4.9% in 2Q15.
Other macroeconomic factors have affected technology stocks. The Greek debt crisis, the fall in the Chinese stock market, and global growth issues have made cyclical technology stocks not so attractive to investors and analysts. Semiconductor stocks have had to bear the brunt of these factors, thereby seeing a major dip in share prices.
Read the next part of this series for an instructive glance at Western Digital and its 4Q15 earnings results.