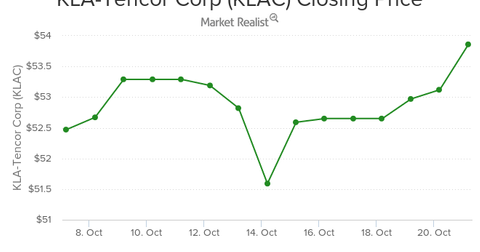 Lam and KLA-Tencor Join the Semiconductor Acquisition Spree
By Puja Tayal

Updated
Details of acquisition
In the previous part of this series, we saw that Lam Research's (LRCX) acquisition of KLA-Tencor (KLAC) was announced alongside the two companies' earnings announcements. We'll now dig deeper into the details of this acquisition and the synergies from the deal.
Lam has agreed to acquire KLA-Tencor in a $10.6 billion cash-stock transaction. The deal values KLA-Tencor at about $67.02 per share, a 24% premium from its October 20, 2015, closing price of $53.80. This is more reasonable than Dialog's acquisition of Atmel (ATML) at a 43% premium and Skyworks's (SWKS) offer to PMC-Sierra for a ~37% premium.
[marketrealist-chart id=747113]
Article continues below advertisement
Under the terms of the deal, Lam will pay $5.0 billion in cash and issue shares worth $5.6 billion to KLA-Tencor's shareholders. Based on the closing price of Lam's stock on October 20, 2015, the company would issue about 80 million shares, giving KLA-Tencor's shareholders about 32% stake in the combined company.
After the earnings and acquisition announcements, KLA-Tencor's stock rallied ~19% to close at $63.98 on October 21, 2015.
Funding the acquisition
Lam plans to fund the acquisition and repay KLA-Tencor's term loan using a combination of ~$3.9 billion debt and free cash from the two companies, which stands at approximately $1.9 billion. The deal is expected to be completed in mid-2016.
Article continues below advertisement
What's in store for KLA-Tencor's shareholders
Recapitalization of debt will have a positive outcome for KLA-Tencor's shareholders. If we look at the value derived by the company's shareholders, it comes in at about $85 per share:
$16.50 special dividend announced in November 2014
Dividends worth $1.52 paid over the past three quarters
$67.02 to be paid in cash and stock as part of the takeover
Synergies of combined company
Lam's acquisition of KLA-Tencor is expected to bring annual cost synergies of $250 million within 18–24 months of the deal's closing and generate around $600 million per year in incremental revenue by 2020. The combined company is expected to have an annual revenue of about $8.7 billion.
KLA-Tencor manufactures process equipment for the semiconductor, data storage, LED (light-emitting diode), and related nanoelectronics industries. The combined company will be better-poised to address its customers' challenges related to the development of advanced semiconductors such as FinFET, multi-patterning, and 3D NAND.
You may wish to invest in the PowerShares QQQ Trust, Series 1 ETF (QQQ), which has 0.23% exposure to Lam and 0.20% exposure to KLA-Tencor.