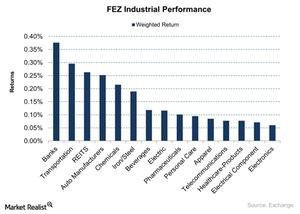 The FEZ ETF Rises After the ECB Statement
By Sarah Sands

Nov. 20 2020, Updated 5:31 p.m. ET
Overview of the FEZ ETF
The FEZ (SPDR Euro Stoxx 50 ETF) is a US-traded exchange-traded fund providing exposure to European equities. The fund has invested in a wide range of sectors. The financial services sector dominates the FEZ ETF's portfolio with a 26% weight, followed by healthcare at 12%, and then industrials and the consumer defensives at 11% each.
The fund has returned around -6.0% YTD (year-to-date) as of October 22. The fund was trading in a narrow range last week ahead of the ECB (European Central Bank) meeting. But on October 22, the ECB statement was released, stating that the ECB was not taking any new steps to increase the interest rate. It leaves the interest rate constant at 0.050%.
Article continues below advertisement
Key stocks driving the performance of the ETF
The FEZ ETF rose and gained ~1.4% in the trading session on October 22 after the announcement of the ECB statement. Also on October 22, the top three performing industries were banking, transportation, and REIT.  The graph above shows the positive performance of industries in the FEZ ETF.
Out of the 52 constituents of the fund, 50 stocks have given positive returns on October 22. This is a very interesting thing for the October 22 trading session. The top three performing stocks for the day were Orange (ORAN), Telefonica (TEF), and RWE, gaining 7.5%, 5.3%, and 4.9%, respectively. In the banking Space, the market saw Deutsche Bank (DB) gain 3.5%, and Banco Santander (SAN) gain 3.2%.
As the interest rate remains constant by the ECB, it gives a good sign to the banking industry. The banking industry's main revenue is from net interest income. If there will be a hike in the interest rate, then the lending rate will also rise. This can affect banks' net interest income. But though interest rate doesn't change, so all the banks outperformed on the October 22 trading session.
The stocks at the bottom were GDF Suez (GDFZY) and Nokia (NOK). They yielded around -2.9% and -2.3%, respectively.
Next, we'll analyze the fund from a statistical point of view.