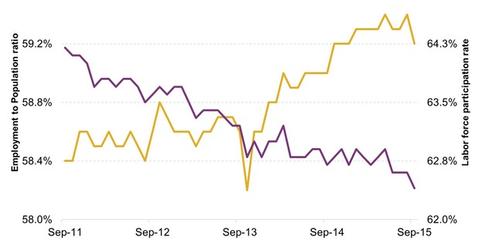 When Can Labor Market Slack Affect Your Mutual Fund Investments?
By David Ashworth

Oct. 15 2015, Published 12:22 p.m. ET
Policymakers' views
We've been looking at various aspects of the US economy, taking into consideration the views of Fed policymakers Stanley Fischer and Lael Brainard. Although both had good things to say about the labor market in general, there were pockets that concerned them, especially those metrics that indicated a slack in the labor market.
Labor market slack refers to the underutilization of available workforce. One of the indicators that shows whether there's slack in the labor market is the labor force participation rate. This rate is calculated by the number of people actively looking for jobs divided by the number of people willing and able to work.
Article continues below advertisement
It's important to note that as job market conditions improve, it should bring some people back to the employment market who may have lost hope of getting a job earlier. This would increase the labor force participation rate, as the number of people actively looking for jobs will increase. But the unemployment rate could rise if enough jobs are not being created.
How can it impact your investment?
Even with robust job additions and a falling unemployment rate, the labor force participation rate has remained low. The rate, which was as high as 66.4% in December 2006, has fallen to 62.4% in September 2015.
Although it doesn't directly impact your investment, it can reflect on it in other ways. Job additions have been disappointing in August and September. If this trend continues, it will reflect weakness in the so-far-so-good labor market. Along with low levels of inflation, it may quite possibly force the Fed to continue with its ultra-loose monetary policy for longer than currently anticipated.
Financials, especially banks like Capital One Financial (COF), Bank of America (BAC), and Wells Fargo (WFC), may get hurt. A fall in financials will be bad for mutual funds such as the American Century Equity Income A ETF (TWEAX), which has 27% of its assets invested in financials, and the JHancock Disciplined Value A ETF (JVLAX), which has 29% of its assets invested in the sector.
Apart from labor market slack, subdued wage growth has been a cause for concern as well. Let's look at that in the next article.