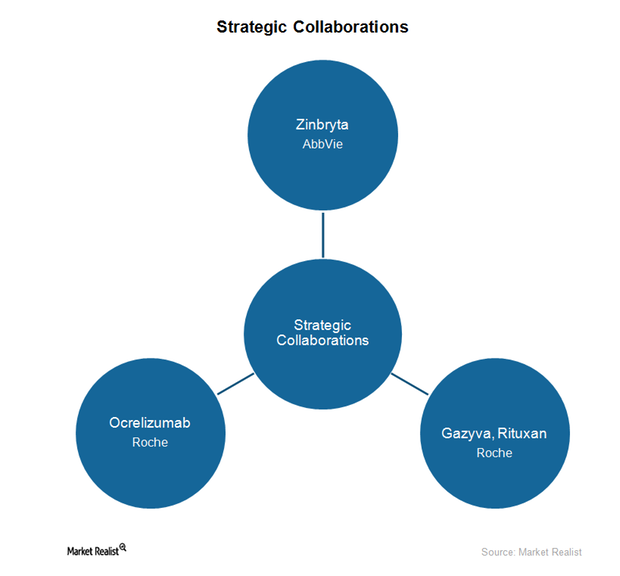 Biogen's Collaborative Arrangements See Strong Development in 3Q15
Collaborative arrangements
In 3Q15, Biogen saw several positive developments for the drugs developed under its various collaborative arrangements.
The above diagram lists Biogen's key collaborations and the medicines being developed and marketed under these arrangements.
Article continues below advertisement
Article continues below advertisement
Ocrelizumab
On September 28, 2015, Roche (RHHBY) announced positive results from a phase three study of Ocrelizumab, an investigational medicine for patients with primary progressive multiple sclerosis (or PPMS). According to a collaboration agreement between Roche (through its subsidiary Genentech) and Biogen (BIIB), the former is responsible for funding development and commercialization of Ocrelizumab. Based on the drug's sales in the US multiple sclerosis (or MS) market, Biogen will receive tiered, double-digit royalties for Ocrelizumab from Roche.
Biogen expects to seek approval for Ocrelizumab in early 2016. The company hopes the drug will reach the market in early 2017. According to Sandra Horning, Roche's chief medical officer and head of global product development, "People with the primary progressive form of MS typically experience symptoms that continuously worsen after the onset of their disease, and there are no approved treatments for this debilitating condition."
Article continues below advertisement
Though there are several medicines available in the market for relapsing forms of multiple sclerosis such as Biogen's Tecfidera and Novartis's (NVS) Gilenya, Ocrelizumab is the first medicine to show clinically significant efficacy in primary progressive MS. If approved, Ocrelizumab will result in substantial royalty revenues for Biogen. To find out more about multiple sclerosis, please refer to The Biotechnology Industry and Multiple Sclerosis Therapies.
Gazyva and Rituxan
To diversify its product portfolio towards oncology drugs, Biogen has collaborated with Roche (through its subsidiary Genentech), for the development and commercialization of Rituxan. It also shares profits and losses for Gazyva. In 2Q15, Biogen's share of the total operating profits earned by Rituxan and Gazyva amounted to $337.5 million, an increase of 11.3% as compared to 2Q14. As both drugs continue to successfully garner market share, Biogen is expected to report higher revenues from these drugs in 3Q15.
Zinbryta
On April 29, 2015, the Food and Drug Administration (or FDA) accepted the Biologics License Application (or BLA) for MS drug Zinbryta. Biogen has collaborated with AbbVie Biotherapeutics, an independent biotechnology company owned by AbbVie (ABBV), for the development and commercialization of Zinbryta.
On October 8, 2015, the results from Zinbryta's phase three Study, DECIDE, published in the New England Journal of Medicine showed that compared to interferon beta-1a 30mcg injection, use of Zinbryta led to improved results in certain measures in patients suffering from relapsing-remitting MS (or RRMS). Zinbryta's strong clinical profile may result in high profit margins for Biogen in future quarters.
Instead of directly investing in Biogen and being exposed to excessive company-specific risks, you can invest in the company through the SPDR S&P 500 ETF (SPY). Biogen accounts for 0.35% of SPY's total holdings.