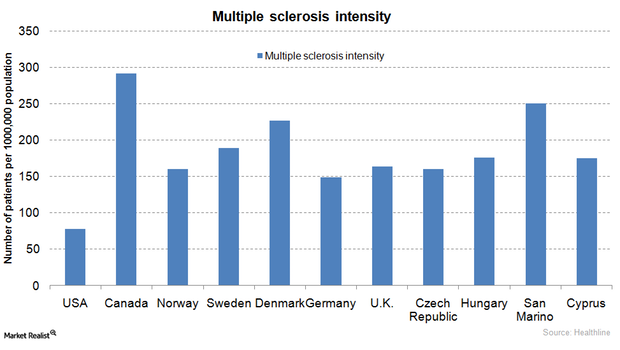 The Biotechnology Industry and Multiple Sclerosis Therapies
Multiple sclerosis
Multiple sclerosis is a disease in which the insulating cover of the nerve cells in the brain and spinal cord is damaged. This affects the nervous system and leads to physical, mental, and psychiatric problems. Multiple sclerosis is one of the most common autoimmune diseases, or diseases caused by an abnormal immune system response to normal body tissue.
Globally, more than 2.3 million people are affected by multiple sclerosis. The above graph shows regions with the highest presence of multiple sclerosis patients per 100,000 population. Healthline notes that the proportion of people afflicted with multiple sclerosis is higher in regions with a colder climate.
Article continues below advertisement
Article continues below advertisement
Multiple sclerosis either manifests in isolated attacks or as attacks where the intensity of the attack increases progressively over time. Currently, there's no FDA- (Federal Drug Administration) approved treatment for this disease. There are, however, certain disease-modifying treatments that help manage pain and reduce the intensity of attacks.
Disease-modifying treatments
By 2014, the FDA had approved about nine disease-modifying treatments for isolated attack multiple sclerosis. There is no recorded treatment for progressive or building-over-time attacks. The biotechnology industry (IBB) has developed an interferon therapy mainly to slow the progress of multiple sclerosis in patients suffering from isolated attacks.
Interferons are cytokines, small protein molecules used as a signaling agent to change the behavior of cells. A protein is a class of organic compounds containing amino acids and are present in all living organisms.
Article continues below advertisement
Interferons seal the blood-brain barrier and reduce the number of T-cells, a type of white blood cell, that reach the brain and subsequently destroy the myelin around nerve cells. Drugs such as Biogen's (BIIB) Avonex, Merck Serono's Rebif, and Bayer Healthcare Pharmaceuticals' Betaseron are some of the major interferon drugs in the market. All interferon drugs are administered through intramuscular injections.
Biogen is one of the leading providers of multiple sclerosis therapies. The company's market position has been further strengthened by Tecfidera, its very successful oral medication for multiple sclerosis. Novartis's (NVS) Gilenya and Sanofis's Aubagio are oral medications that compete strongly with Biogen's drugs.
Copaxone therapy
Another popular high-ranked drug in the market to treat multiple sclerosis is Teva Pharamaceutical's (TEVA) Copaxone. Copaxone is similar to myelin in structure. When Copaxone is injected into a patient with multipe sclerosis, the T-cells that are activated in response to Copaxone reduce the attack on myelin.
Most multiple sclerosis drugs are very costly at about $55,000 per year. The FDA's April 2015 approval of a generic version of Copaxone is expected to lower the overall price of the therapy. Momenta Pharmaceuticals (MNTA) will enter the market with a generic version of Copaxone called Glatopa, which might prove to be tough competition for Teva Pharmaceutical.