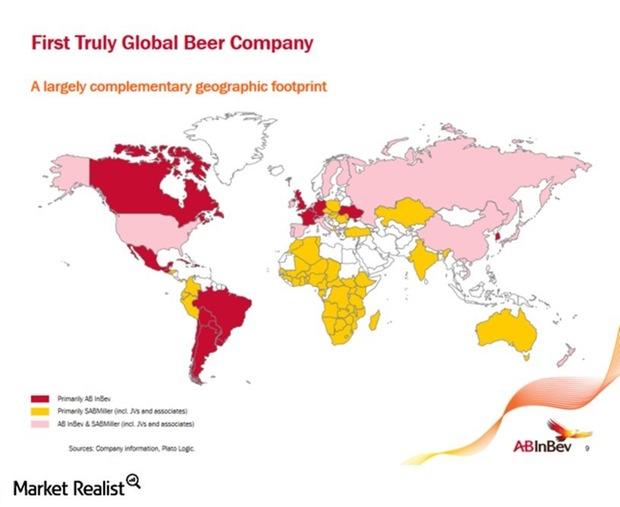 Anheuser-Busch InBev Bids for SABMiller: Analysis
Anheuser-Busch InBev's third bid for SABMiller
On October 7, 2015, Anheuser-Busch InBev (BUD) (AHBIF) (ABI.BR), or ABI, announced it had formally made a cash bid of 42.2 pounds per share to SABMiller's (SBMRY) (SAB.L) board, with a partial share alternative. This would value SABMiller at ~$104 billion. Prior to this, ABI had made informal private bids to SABMiller's board on two occasions:
38 pounds per share on September 17, with a partial share alternative
40 pounds per share, on September 22, with a partial share alternative
All three offers have been rejected by the SABMiller board. In a press release dated October 7, ABI stated that it was "disappointed that the Board of SABMiller has rejected both of these prior approaches without any meaningful engagement."
Article continues below advertisement
Acquisition considerations
On September 16, ABI announced plans to formally bid for SABMiller. ABI has sought a friendly combination with SABMiller and according to Bloomberg, it had reportedly reached out to SABMiller's largest shareholder Altria (MO) prior to announcing its intention to bid.
A possible combination of ABI and SABMiller would likely create the world's most dominant brewer, accounting for almost a third of global beer volume.[1. Euromonitor International] It is also likely to provide considerable synergies from economies of scale.
ABI believes a combination with SABMiller would be largely complementary for both companies in terms of geography. ABI also has practically no exposure to Africa, and SABMiller has had a presence in South Africa for over a century.
The favorable demographics from a younger population in Africa could help mitigate ABI's declining volumes in the US and other developed markets, as consumers increasingly gravitate toward craft beer. SABMiller grew organic sales in Africa by 9% last fiscal year, the fastest among all geographies.
A possible combination of the two brewers would also provide more choices for consumers and increase the brewers' innovation capabilities.
Our earlier series, A Beer-Fueled Courtship: Anheuser-Busch InBev Announces Plans to Acquire SABMiller, discusses these and other implications of a possible combination.
Altria constitutes 5.7% of the holdings in the Consumer Staples Select Sector SPDR ETF (XLP) and 0.6% of the holdings in the SPDR S&P 500 ETF (SPY).
The next article discusses the implied valuations in ABI's revised bid for SABMiller.