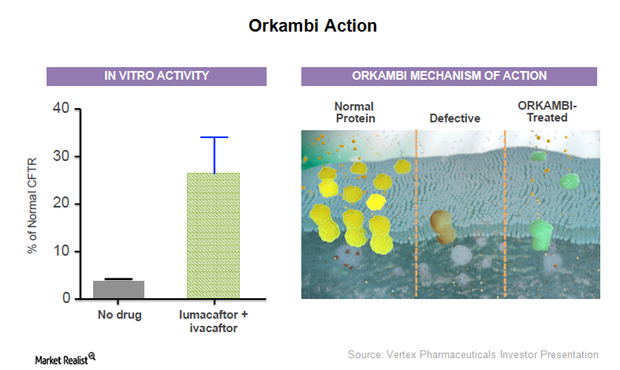 Vertex Pharmaceuticals' New Drug Orkambi Receives FDA Approval
By Margaret Patrick

Sep. 28 2015, Updated 12:08 p.m. ET
Orkambi
On July 2, 2015, the FDA (U.S. Food and Drug Administration) approved Orkambi, a combination drug of lumacaftor and ivacaftor, for treating cystic fibrosis (or CF) patients. According to the FDA, "CF is a serious genetic disorder that results in the formation of thick mucus that builds up in the lungs, digestive tract and other parts of the body leading to severe respiratory and digestive problems, as well as other complications such as infections and diabetes."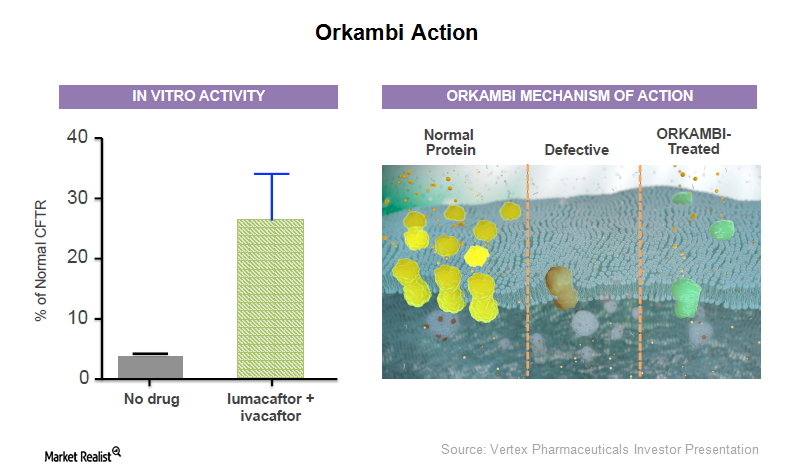 Article continues below advertisement
The above diagram shows the manner in which Orkambi helps treat CF patients who are 12 years and older and have a particular F508del mutation in their cystic fibrosis transmembrane conductance regulator (or CFTR) gene. This leads to production of an abnormal protein that affects the flow of water and chloride in the body.
The F508del mutation is the most common mutation among the 30,000 CF patients in the United States. Vertex Pharmaceuticals (VRTX) has estimated that around 8,500 patients in the United States and 12,000 patients in Europe are eligible for Orkambi treatment.
Orphan drug designation
The FDA has granted Orkambi an orphan drug designation (or ODD). Similar to other orphan drugs such as Alexion Pharmaceuticals' (ALXN) Soliris (eculizumab), Amgen's (AMGN) Blincyto (blinatumomab), and Gilead Sciences' (GILD) Zydelig ((idelalisib), Orkambi enjoys higher pricing flexibility compared to other mainstream drugs.
Currently, Vertex Pharmaceuticals has priced Orkambi at $259,000 in the United States on an annual basis. The steep price, however, might lead to slow acceptability of the drug by health insurance companies. Vertex Pharmaceuticals expects to recognize its first revenue stream from Orkambi in the United States in the third quarter of 2015.
Orkambi is under regulatory review in Europe as well and is expected to be approved in the fourth quarter of 2015. However, with various countries in Europe enforcing different criteria for drug reimbursement–related decisions, Vertex Pharmaceuticals doesn't expect revenues from Orkambi in markets outside the United States.
Investors can get diversified exposure to Vertex Pharmaceuticals' new CF drug, Orkambi, while protecting themselves against excessive company-specific risks by investing in the iShares Nasdaq Biotechnology ETF (IBB). Vertex Pharmaceuticals accounts for 4.24% of IBB's total holdings.