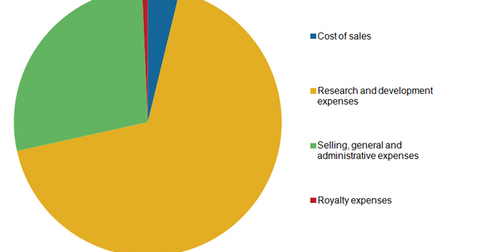 Vertex Pharmaceuticals' Cost Structure and EBITDA Margins
By Margaret Patrick

Updated
EBITDA margins
While mature biotechnology companies with drugs in multiple disease segments earn an average of 30%–40% EBITDA (earnings before interest, taxes, depreciation, and amortization), margins of companies targeting only rare diseases can vary due to their unique business model. Vertex Pharmaceuticals (VRTX) has been recording losses for the past three years, as its expenses have significantly exceeded the company's total revenues.
Article continues below advertisement
Vertex Pharmaceuticals' expense breakdown
Compared with expenses in 1H14, Vertex Pharmaceuticals' total operating expenses have remained almost stable in 1H15. Despite a rise in total revenues earned in 1H15, the company continues to report net losses.
Vertex Pharmaceuticals' research and development (or R&D) expenses include payroll-related expenses, laboratory supplies and other direct expenses, infrastructure costs, outsourced services, and drug supply costs. In 1H15, Vertex's R&D expenses accounted for 144.3% of the company's total revenues. The company's R&D expense ratio is much higher than those of peers such as Amgen (AMGN), Gilead Sciences (GILD), and Alexion Pharmaceuticals (ALXN) with ratios of 17.9%, 8.7%, and 28.5%, respectively.
Excessive R&D expense compared to total revenues may indicate overtly aggressive or suboptimal research programs. Currently, Vertex Pharmaceuticals is mainly involved in exploring new drugs for treating cystic fibrosis and for label expansion of its existing drug Kalydeco.
Compared to expenses in 1H14, sales, general, and administration (or SG&A) expenses have also increased by 18.9% in 1H15. The increase has been attributed to increased marketing costs of Kalydeco, costs to launch Orkambi in the United States, and Orkambi's potential launch in non-US markets.
Royalty expenses fell by 70% in 1H15 compared to 1H14, mainly due to a decline in hepatitis C drug Incivo by collaboration partner Janssen Pharmaceuticals.
You can reduce exposure to Vertex Pharmaceuticals' high costs yet participate in the future upside potential by investing in the iShares Nasdaq Biotechnology ETF (IBB). Vertex Pharmaceuticals accounts for 4.24% of IBB's total holdings.