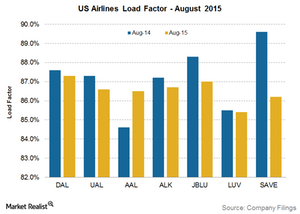 US Airlines Capacity Growth Outpaces Demand, Load Factor Drops
Overview
As seen in the above article, all major US airlines have resorted to capacity growth amid strong demand and low oil prices. When capacity growth exceeds demand growth, the result is a fall in capacity utilization. Capacity utilization in airlines is measured using the passenger load factor, or LF, which is calculated as traffic divided by the capacity of the airline. It is an important indicator of an airline's efficiency.
Article continues below advertisement
Regional carrier
Spirit Airlines (SAVE) saw a decline in LF of 3.4%, while JetBlue Airways's (JBLU) LF fell by 1.3%. Both airlines have increased capacity in excess of demand growth, as seen in the previous article in this series. Also contributing to this decrease was the shift of the Labor Day holiday, which this year fell entirely in September.
Southwest Airlines's (LUV) LF fell by 0.1%—the lowest among its peers—as the company maintained a fine balance between demand growth and capacity growth.
Legacy carriers
Legacy carriers saw a relatively lower decrease in their load factors than regional carriers, as they grew capacity more conservatively than regional players. Delta Air Lines (DAL) saw a 0.3% drop in its LF. Its growth in the Latin American market was offset by decreases in its Atlantic and domestic markets.
United Continental (UAL) saw its LF fall across all markets adding up to a total decline of 0.7%, and Alaska Air Group's (ALK) LF fell by 0.5%.
American Airlines (AAL) was the only airline to see growth in load factor. The airline saw its load factor improve by 1.9%, a record for the company.
These airlines are a part of the iShares Transportation Average ETF (IYT), which invests ~16.85% of its holdings in airline stocks.
Decreasing load factors across the industry mean that airlines are not able to fill up their seats as fast as they are adding seats. This justifies investor fears of overcapacity.