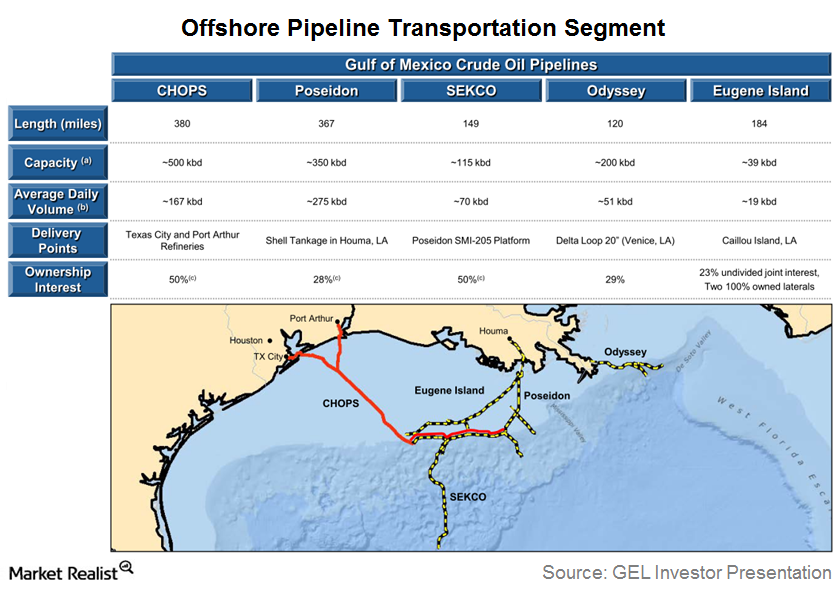 An Overview of Genesis Energy's Offshore Pipeline Segment
Genesis Energy's Offshore Pipeline Transportation segment
Genesis Energy (GEL) owns interest in pipelines and other related infrastructure in the Gulf of Mexico region under its Offshore Pipeline Transportation segment. The Gulf of Mexico is one of the largest crude oil–producing regions in the United States.
Other MLPs that have midstream assets in the Gulf Coast region include Shell Midstream Partners (SHLX) and EnLink Midstream Partners (ENLK). Genesis Energy alone constitutes 3.3% of the Global X MLP ETF (MLPA).
Article continues below advertisement
Genesis Energy's Gulf of Mexico crude oil pipelines
Until recently, Genesis Energy's Offshore Pipeline segment owned interest in ~1200 miles of offshore pipelines spread across five pipeline systems.
CHOPS: Genesis Energy owns 50% interest in CHOPS (Cameron Highway Oil Pipeline System). The remaining 50% is held by Enterprise Products Partners (EPD). The pipeline system delivers crude oil to refining markets along the Texas Gulf Coast.
Poseidon: Genesis Energy owns 28% in the Poseidon System. The remaining 72% is held by Enterprise Products Partners and Shell (RDSB). The system transports crude oil to other terminals and pipelines, onshore and offshore, in Louisiana.
SEKCO Pipeline: Similar to CHOPS, the SEKCO (Southeast Keathley Canyon Pipeline Company) system is Genesis Energy's 50/50 joint venture with Enterprise Products Partners. SEKCO "is a deepwater pipeline serving the Lucius oil and gas field located in the southern Keathley Canyon area of the Gulf of Mexico."
Odyssey: Genesis Energy owns 29% of Odyssey, while the remaining 71% is held by an affiliate of Shell.
Eugene Island: The Eugene Island pipeline system delivers crude to other pipelines and terminals onshore in Louisiana. Genesis Energy owns 23% interest in this system.
In the next article, we'll look at Genesis Energy's new ownership interests in the above pipeline systems following the completion of EPD's Offshore Pipeline and Service Business acquisition.
Segment value drivers
The Offshore Pipeline Transportation segment's performance is driven mainly by throughput volumes and contracts. Most of the production handled by the Genesis Energy's offshore pipelines are under firm and interruptible contracts, which entitles the partnership to receive certain minimum fees.