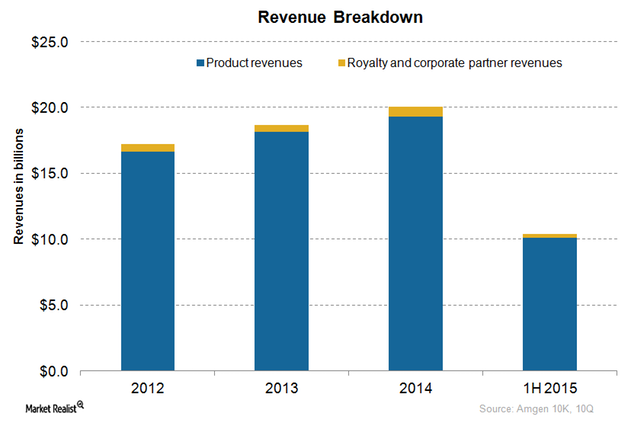 An Overview of Amgen's Business Model
Amgen's business model
Amgen (AMGN) generates revenues in two ways: product sales and other revenues mainly comprised of royalties and corporate partner income.
Article continues below advertisement
Article continues below advertisement
Oncology drugs
Oncology drugs Neulasta, Neupogen, Vectibix, Xgeva, and Nplate account for about 39% of Amgen's total sales. Additionally, Amgen's acquisition of Onyx Pharmaceuticals added the three oncology drugs Kyprolis, Nexavar, and Stivarga to Amgen's portfolio. Kyprolis, a leading multiple myeloma, or MM, drug, was launched in the US market in 2012. This drug has proved to be tough competition to other MM drugs such as Novartis's (NVS) Farydak, Takeda and Johnson & Johnson's (JNJ) Velcade, and Celgene's (CELG) Pomalyst. Nexavar and Stivarga also continue to deliver steady revenues to Amgen.
Patients suffering with cancer may face osteoporosis as a side effect of their therapy. WebMd describes osteoporosis in the following way: "Osteoporosis, or thinning bones, can result in painful fractures." Amgen's Xgeva is approved by the FDA for the treatment of this side effect. Also approved for the treatment of giant cell tumor of the bone, usually a noncancerous tumor, Xgeva has proved to be a blockbuster therapy for Amgen.
Article continues below advertisement
Other drugs
Enbrel, targeting rheumatoid arthritis, psoriasis, and psoriatic arthritis, accounts for about 24% of Amgen's revenues. Amgen's anemia drugs Epogen and Aranesp are used for treating anemia in patients with chronic kidney diseases. However, in 2007, the Food and Drug Administration, or FDA, issued a warning citing heart attacks, blood clots, and even death as possible side effects of these drugs in cancer patients. This has led to market erosion for Amgen's anemia drugs. Prolia, approved for osteoporosis in postmenopausal women, has also proved to be a highly successful therapy.
Amgen has also diversified into the biosimilar or generic biotech market, in partnership with AstraZeneca.
Royalty and corporate partner revenue
Royalties are collected from licensees of Amgen's products. Corporate partner revenues mainly come from Amgen's collaboration with Bayer HealthCare Pharmaceuticals for the sale of Nexavar as well as Kirin-Amgen Inc., a joint venture between Kirin Brewery Company and Amgen.
Investors can get diversified exposure to Amgen's strong drug portfolio, yet avoid unique company risks, by investing in the iShares NASDAQ Biotechnology ETF (IBB). IBB holds 8.53% of its total holdings in Amgen.