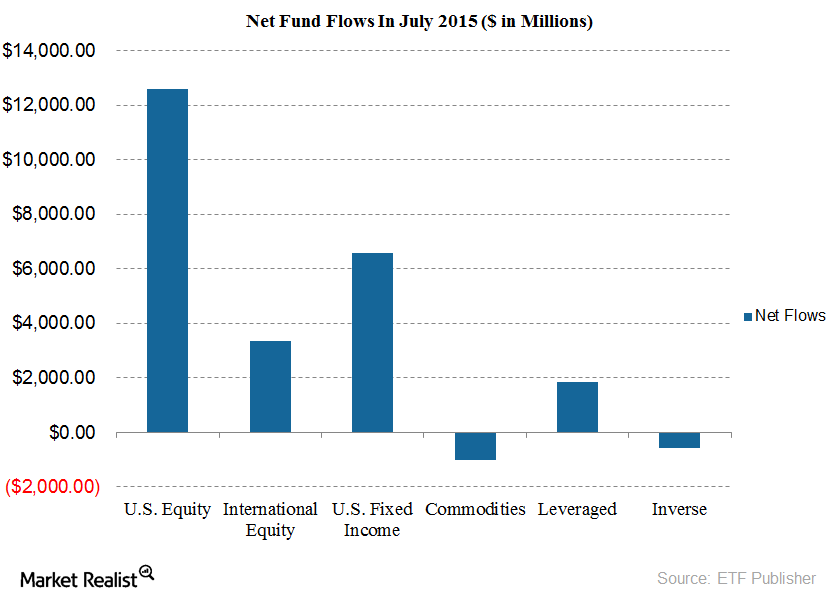 Investors Park Funds in Large-Cap ETFs in July
ETFs attract $23 billion in July
In July 2015, investors poured approximately $23 billion in US ETFs with 50% of total investments in equity funds. ETFs that have attracted most investments are the three largest domestic ETFs, the SPDR S&P 500 ETF (SPY), the Vanguard S&P 500 ETF (VOO), and the iShares Core S&P 500 ETF. The three ETFs combined raked in more than $4.9 billion in July 2015.
Todd Rosenbluth, director of ETF and mutual fund research at S&P Capital IQ, said to ETF.com, "Investors really favored the safety of large-cap U.S. equities over riskier small-caps and emerging markets." Rosenbluth added, "It's interesting to see the three ETFs tied to the S&P 500 Index leading the charge, since we saw international equities driving the flows earlier in the year. Investors seem to believe that better-than-expected earnings will move the large-caps higher."
Article continues below advertisement
Emerging market ETFs witness outflows
The ETFs that witnessed fund outflows in July 2015 include the iShares MSCI Emerging Markets ETF (EEM) with net redemptions of $2.5 billion. EEM fell more than 7% in July 2015.
Small-cap ETFs such as the iShares Russell 2000 ETF (IWM) were among July's biggest net redemptions as investor's limited exposure to small-cap funds. IWN saw fund outflows of $1.5 billion compared to inflows of $2.12 billion in June 2015.
As we saw in previous articles, July saw $6.5 billion inflows for US fixed-income ETFs as investors were expecting an interest rate hike by the Federal Reserve.
Rosenbluth believes that since rates are expected to rise in September 2015, demand for US bonds are gathering momentum and, as Rosenbluth said, "Investors continue to use ETFs as a way of tilting their portfolios."
Tech ETFs such as the Technology Select Sector SPDR ETF (XLK) saw fund outflows of $431.39 million in July 2015. XLK's top holdings include tech heavyweights like Apple (AAPL), Microsoft (MSFT), and Verizon (VZ), which make up 18.08%, 8.58%, and 4.91% of the ETF, respectively.