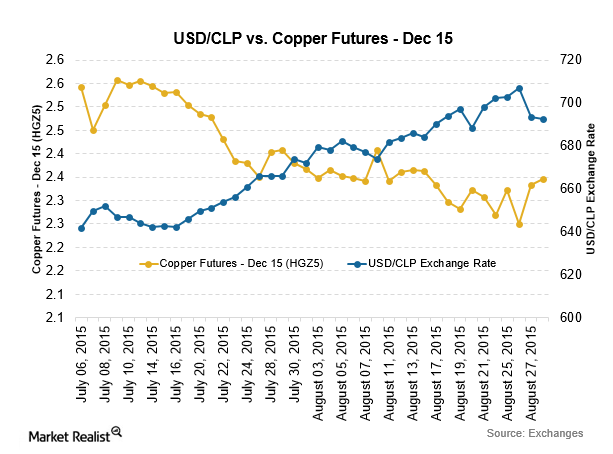 The High Correlation between the Chilean Peso and Copper Prices
Recent depreciation in Chilean peso clashes with copper decline
Economies throughout the world thrive on the revenues they generate from their respective resources. Thus, global prices of such resources significantly impact the economic wealth and currency values of the concerned countries. One such example is the Chilean peso, which has exhibited high correlation with copper prices. Copper takes the position of the largest exported material out of Chile.
Thus, any variation in copper demand or supply directly affects the value of the Chilean peso against the US dollar. In the current scenario of a global demand slowdown, Chinese raw material imports have declined due to reduced demand for finished products. Thus, commodity prices around the world have been impacted severely. Considering the reliance of the peso on copper prices, the depreciation in the currency has been tremendous.
Article continues below advertisement
High correlation of 0.93
Data was gathered on a daily basis over a period of approximately two months from July 7 to September 7, 2015, for the Chilean peso-US dollar currency pair and prices of copper futures. The correlation in the given period came in at a staggering 0.93, which shows high positive correlation between the peso and copper prices. Copper prices have been driven downwards to a six-year low on speculation that China might reduce imports of the metal. Copper prices received some relief on September 7 after Swiss copper major Glencore stated that it will be cutting its net debt by $20 billion by closing copper mines and reducing operating costs.
The peso has also been under pressure due to outflows arising from the transfer of liquidity from emerging economies to developed ones. Also, the devaluation in the Chinese yuan has caused a spiraling effect on major Asian and Latin American currencies, who are depreciating their domestic currencies to maintain competency in terms of their exports.
Impact on the market
The iShares MSCI Chile Capped ETF (ECH) fell by 6.28% in the period from July 6 to August 28, 2015. Over the same period, the PowerShares DB Base Metals ETF (DBB) followed a similar trend and fell by 7.77%.
Chile-based ADR (American depository receipts) also fell with Enersis (ENI) and Empresa Nacional de Electricidad SA (EOC) falling by 11.89% and 9.22% over the same time period. The dip in copper prices also affected US companies in the copper business with Freeport-McMoRan Copper & Gold (FCX) falling by a staggering 40.74% in the eight weeks ending August 28, 2015.