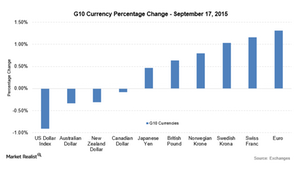 G10 Currencies Rise as the US Dollar Index Falls
By David Meyer

Sep. 21 2015, Published 12:04 p.m. ET
US Dollar Index ends on a negative slope
The US Dollar Index tracks the strength of the US dollar against a basket of currencies. It was trading on a weaker note on September 17, 2015, after a dovish stance by the Fed in the FOMC (Federal Open Market Committee) meeting. The US Dollar Index was reeling under mounting pressure by dollar bears who had kept their bets on speculations that the Fed would keep the rates on hold. Culminating from US dollar weakness, G10 currencies rose in value. Some of them ended the day more than 1% higher than their close the day before.
Article continues below advertisement
G10 currencies rise and commodity currencies display exception
The euro, Swiss franc, and Swedish krona are all part of the basket of currencies forming the US Dollar Index. They gained by 1.31%, 1.16%, and 1.04%, respectively. Highly-traded currencies like the pound sterling rose 0.63% against the US dollar. The Japanese yen rose by 0.46% and the Norwegian krone rose by 0.80%. Other commodity-linked currencies weren't able to mirror the gains as reflected by their peers. For oceanic currencies, the Australian dollar fell by -0.33% against the US dollar intra-day while the New Zealand dollar fell by -0.31%. The Canadian dollar also exhibited a downward tick of -0.08% at the close of trade after the FOMC meeting.
Impact on the market
In terms of ETFs in the developed economies on September 17, 2015, the iShares MSCI EAFE ETF (EFA) rose by 0.05%. The PowerShares DB US Dollar Bullish ETF (UUP) fell on the same day by -1.05%.
The ADRs (American Depository Receipts) trading in the developed countries displayed a mixed stance. Banking ADRs like the Deutsche Bank AG (DB) rose by 1.15%, while Citigroup (C) ended at a -1.79% low. In contrast, Australian banking ADR Westpac Banking (WBK) fell by -0.27%.