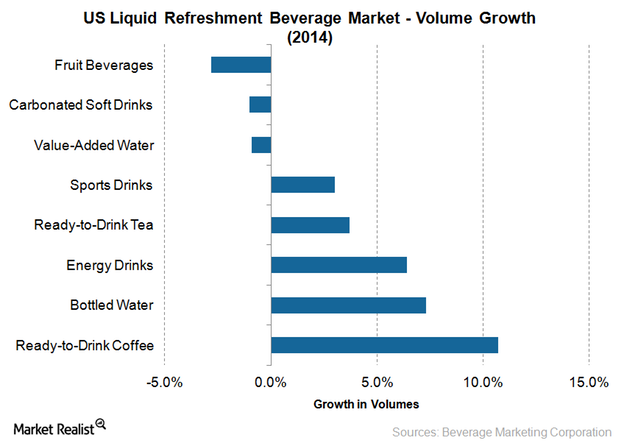 Dr Pepper's Prospects in Other Non-Carbonated Beverages
Further growth
As we discussed earlier in this series, given the sluggish demand for CSDs (carbonated soft drinks), Dr Pepper Snapple Group (DPS) has adopted a strong strategy by acquiring an 11.7% stake in the BodyArmor sports drink line. But aside from sports drinks, Dr Pepper Snapple could look for further growth in other prominent non-carbonated beverage categories like bottled water, ready-to-drink tea and coffee, and energy drinks.
Article continues below advertisement
Volume growth
According to Beverage Marketing Corporation, in 2014 the ready-to-drink coffee category posted a volume growth of 10.7%, which was higher than all other non-alcoholic beverages. Bottled water volume grew by 7.3%, and energy drinks grew by 6.4% in volume. The volume of beverages consumed in the ready-to-drink category grew by 3.7% in 2014.
Beverage companies are thus increasingly looking for growth opportunities in these alternative categories, through both organic and inorganic expansion. To capture the growth in the energy drinks market, The Coca-Cola Company (KO) acquired a 16.7% stake in Monster Beverage Corporation (MNST) for $2.2 billion. In May 2015, PepsiCo (PEP) launched four new flavors under its AMP Energy brand. Dr Pepper Snapple recently launched the Snapple Straight Up Tea nationally.
Coca-Cola, PepsiCo, and Dr Pepper Snapple together account for ~3% of the portfolio holdings of the iShares Russell 1000 Growth ETF (IWF). Dr Pepper Snapple makes up 0.5% of the iShares Russell Mid-Cap Growth ETF (IWP).
Non-carbonated beverage performance
Non-carbonated beverages are performing better than CSDs. In 2Q15, Dr Pepper Snapple's non-carbonated beverage volume grew by 3%, compared to CSD volumes, which increased by 1%. Coca-Cola's non-carbonated beverages registered a 5% growth in their 2Q15 volumes, and the company's sparkling beverage volume grew by 1% in the second quarter. PepsiCo's non-carbonated beverage volume was up by 4% in 2Q15 in the North America region, while CSD volumes fell by 3%.
But Dr Pepper Snapple still derives 80% of its volumes from CSDs. The company could bring down this exposure and capture the growth opportunities in other non-soda categories, which health-conscious consumers increasingly prefer.
For more updates, visit our Nonalcoholic beverages.