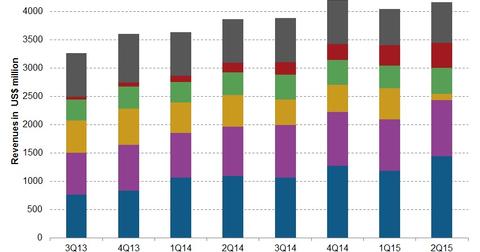 Bristol-Myers Squibb's Business Segment Performance
By Mike Benson

Updated
Performance by business segment
As discussed earlier, Bristol-Myers Squibb (BMY) has classified its business into virology, oncology, immunoscience, cardiovascular, and neuroscience segments. All other products are categorized under the "mature products and all others" segment.
Article continues below advertisement
Revenues by segment
The virology segment contributed nearly 35% of total revenues for Bristol-Myers Squibb during 2Q15. For virology, the Hepatitis C franchise reported sales of ~$479 million, including a one-time revenue from sales in France worth ~$170 million. This segment also includes Baraclude, a Hepatitis B drug, and Reyataz and Sustiva, HIV drugs, which reported a decline in sales in 2Q15 over 2Q14. The HIV franchise reported a 14% decline in sales due to the competition.
The oncology segment contributed nearly 24% of total revenues for the company during 2Q15. This segment reported a ~13% increase in 2Q15 over 2Q14, mainly driven by increased sales of Opdivo and Sprycel, partially offset by falls in Yervoy and Erbitux revenues.
The immunoscience segment, which includes Orencia, contributed nearly 11% of total revenues during 2Q15. Orencia sales improved by nearly 15% in 2Q15 following higher demand as compared to 2Q14.
The cardiovascular segment, represented by the drug Eliquis, contributed ~10% of total revenues during 2Q15. Eliquis sales increased by over 250% to $437 million in 2Q15 as compared to $171 in 2Q14 due to wide use and strength of its prescription trends. The neuroscience segment, represented by Abilify, reported a drop of more than 80% in 2Q15 over 2Q14.
The matured products segment contributed $724 million in 2Q15, which was nearly 17% of total revenues. The matured products revenues declined by nearly 6% in 2Q15 over 2Q14 due to lower sales and increased competition.
We'll discuss the company's key products in the coming articles. Companies like GlaxoSmithKline (GSK) and Mylan (MYL) compete with Bristol-Myers Squibb's virology segment. Celgene (CELG) and Novartis (NVS) compete with its oncology segment. Investors can consider ETFs like the Health Care Select Sector SPDR ETF (XLV) in order to divest risk.