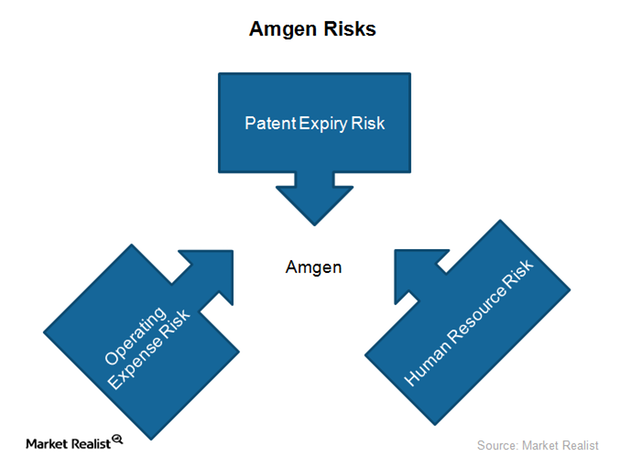 Amgen's Key Risks
Key risks
In addition to industry-specific risks, Amgen (AMGN) faces additional company-specific risks resulting from its unique business model and cost structure.
Article continues below advertisement
Article continues below advertisement
Patent expiry risk
Amgen's oncology drugs Neupogen and Neulasta account for about 27% of the company's total revenues. Neupogen lost its patent exclusivity in December 2013 and is facing competition from Teva Pharmaceutical's (TEVA) Granix in the US and Lonquex in Europe. In March 2015, the Food and Drug Administration, or FDA, also approved Neupogen's first biosimilar, Novartis's (NVS) Zarxio.
Amgen's Neulasta will also face patent expiry in the US in October 2015 and in Europe in August 2017. The FDA has accepted the application of Apotex's biosimilar version of Neulasta. As Amgen's two major drugs face patent expiry, there is a risk of substantial market erosion due to generic competition.
Operating expense risk
Since 2012, Amgen has consistently recorded lower profit margins than those of its peers. In 1H2015, biotechnology companies such as Gilead Sciences (GILD), Celgene, Biogen, and Amgen recorded Ebitda (earnings before interest, tax, depreciation, and amortization) margins of about 74%, 52%, 49%, and 39%, respectively.
To reduce its overall expenses, Amgen initiated a restructuring plan in the second half of 2014. It involves reducing the total number of facilities by 23% as well as the total employee count by 20%. Compared to 2013, the restructuring plan aims to reduce Amgen's operating expenses by $700 million in 2016 and $800 million in 2018. However, if the company fails to realize these operational efficiencies, it will continue to underperform its peers in terms of profit margins.
Human resource risk
Amgen's restructuring plan has led to a reduction of about 3,500–4,000 employees. These changes can further result in reduced employee morale and attrition of talented employees. As the biotechnology company is highly dependent on its human capital, loss of key personnel can affect the company's operations as well as innovation pipeline.
Investors can gain exposure to Amgen while avoiding its unique company risks by investing in the iShares NASDAQ Biotechnology ETF (IBB). IBB invests 8.53% of its total holdings in Amgen.