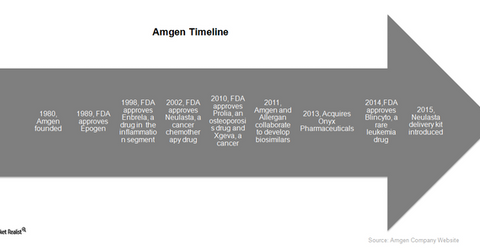 Amgen: An Investor's Overview to a Leading Biotech Company
By Margaret Patrick

Updated
Overview
With a presence in 75 countries around the world, Amgen (AMGN) focuses on areas of high unmet demand in cancer, kidney disease, rheumatoid arthritis, bone disease, and other ailments. The company is headquartered in Thousand Oaks, California. In addition to its innovative research, Amgen is famous for its world-class manufacturing capabilities.
Article continues below advertisement
History
Amgen was founded in 1980 by venture capitalists William K. (Bill) Bowes and associates. Since its initial public offering, or IPO, in 1983, the company has consistently delivered breakthrough innovations in biotechnology.
In 1989, the Food and Drug Administration, or FDA, approved Amgen's Epogen, the first biotech drug to earn more than $1 billion in sales and reach blockbuster status. This drug is used to treat anemia in patients with chronic kidney disease. This was followed by the 1991 approval of another blockbuster drug, Neupogen, used to treat neutropenia, in 1991. WedMd describes the effects of neutropenia in the following way: "People with neutropenia have an unusually low number of cells called neutrophils. Neutrophils are cells in your immune system that attack bacteria and other organisms when they invade your body."
Amgen's next successful drug was Enbrel, launched in the US in 1998. This drug targeted inflammation and immunity diseases such as rheumatoid arthritis, psoriasis, and ankylosing spondylitis. This success was followed by another anemia blockbuster, Aranesp, in 2001.
Post 2005, Amgen broadened its focus beyond anemia and inflammatory diseases to oncology drugs. This resulted in quick launches of novel drugs such as Vectibix in 2006, Nplate in 2009, and Xgeva in 2010. The year 2010 also witnessed the launch of Prolia, Amgen's osteoporosis drug.
Inorganic growth
In addition to independent development, Amgen has grown by obtaining novel drugs through acquisitions. In 2012, Amgen acquired Micromet Inc., developer of the oncology drug Blincyto. Amgen also acquired Onyx Pharmaceuticals in 2013 to get access to oncology drugs Kyprolis and Nexavar.
Amgen has also entered the growing biosimilar or generic biotech market. Amgen collaborated with AstraZeneca (AZN) to develop and commercialize oncology biosimilars around the world.
About Amgen
With a market capitalization of $127.2 billion, Amgen is one of the world's major biotechnology companies. Peers such as Celgene (CELG), Regeneron, and Gilead Sciences (GILD) have market capitalization of about $102.9 billion, $59.1 billion, and $171.8 billion, respectively.
Investors can invest in Amgen, yet avoid unique company risks, by investing in the iShares NASDAQ Biotechnology ETF (IBB). IBB holds 8.53% of its total holdings in Amgen.