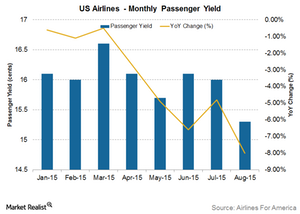 Airlines Passenger Yield Continues to Decline in August 2015
Passenger yield
Passenger yield is the average fare per passenger per mile. It is calculated by dividing the passenger revenue by revenue passenger miles, or RPM. The higher the yield, the higher the revenue and margins of an airline. Air travel supply and demand play an important role in determining yield. Yield is higher during peak seasons, since demand for air travel is seasonal.
Article continues below advertisement
Passenger yield declines in August
Airlines have been growing capacity in anticipation of increased demand. However, this growth has come at a cost. As seen in previous parts of this series, capacity utilization has continued to decline, and so have passenger yields.
Passenger yield declined by 8% year-over-year for August 2015 to 15.3 cents from 16.6 cents. This is the highest decline since the start of the year. As the above chart shows, passenger yields have continued to decline since January 2015. They are down to 15 cents from the high of 17 cents seen in mid 2014.
As of August 2015, passenger yields had declined by ~4% YTD to 16 cents, as compared to 16.6 cents YTD in August 2014. Declining passenger yields are a sign of declining passenger revenues. In part, this decline can be attributed to airlines increasing capacity at a greater pace than demand growth, as seen previously in this series. Other reasons include the dollar appreciation, leading to declining global fares, and downward pressure due to declining fuel cost.
To avoid the risk of investing in a single stock, investors can get exposure to airlines by investing in the iShares Transportation Average ETF (IYT), which invests 4.8% of its holdings in Alaska (ALK), 3.99% of its holdings in United Continental (UAL), 3.16% of its holdings in Delta (DAL), 2.5% of its holdings in Southwest (LUV), and 1.6% of its holdings in JetBlue (JBLU).