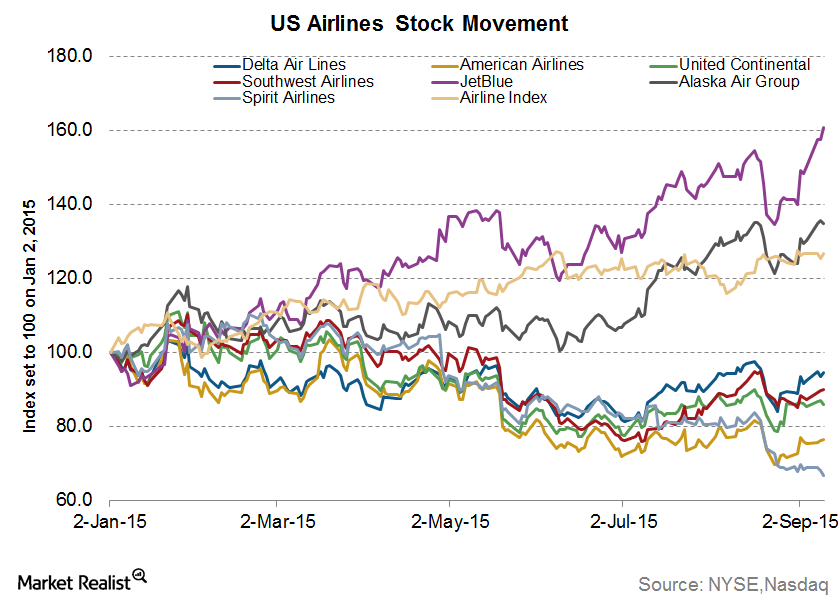 Most Airline Stocks Continue to Tumble in August
The US airline industry
After a successful 2014, where all airlines posted substantial gains, this year has been tough. Most airline stocks have fallen, and the NYSE ARCA Airline Index (XAL), which is composed of the major US airline stocks, has also tumbled as much as 13.5% year-to-date. For the month of August, XAL has fallen by nearly 10%. The iShares Transportation ETF (IYT), which invests 17% of its holdings in airline stocks, also fell 6% on August 15.
Article continues below advertisement
The reason for the weakness seems to be investors' fear of overcapacity in the industry, as was the case before the recession. Major airlines continue to add capacity in anticipation of growing demand. The fears seem to be well placed, with most airlines reporting lower load factors and thus lower unit revenues. The probe launched by the Department of Justice (or DOJ) against four major airline operators—Delta Air Lines (DAL), United Continental Holdings (UAL), Southwest Airlines (LUV), and American Airlines (AAL)—has also kept the stocks subdued.
These airlines are part of the iShares Transportation Average ETF (IYT), which invests ~16.85% of its holdings in airline stocks.
US airline stocks' performance
Most airline stocks, except those of JetBlue Airways (JBLU) and Alaska Air Group (ALK), have tumbled during the first eight months of the year. JBLU and ALK rose ~68% and ~32%, respectively. Spirt Airlines (SAVE) fell the most, ~35%, followed by AAL at 19%, UAL at 12%, LUV at 7%, and DAL at 4%.
For the month of August, both UAL and Southwest (LUV) rose about 1% each, while all other stocks fell. Spirit Airlines fell the most, about 20% during the month. JBLU and AAL fell ~3% each, while DAL and ALK fell ~1% each.
Series overview
In the remaining parts of this series, we will gauge the health of US Airline industry by analyzing the traffic numbers for major airline stocks for the month of August 2015.
We'll start by analyzing the traffic demand scenario for the month.