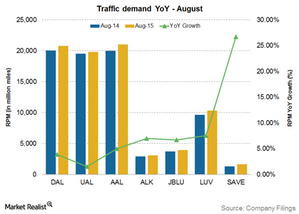 Airline Industry Demand Continues to Grow in August
Airline demand
The demand for air travel experienced considerable growth in the month of August, driven by traditional vacation travel as well as lower fares of major air carriers. The travel demand for both domestic and international travel remained strong, although regional demand outpaced international, albeit by a small margin.
The airline industry has benefited from rock-bottom fuel prices and has seen good traffic demand and vacation bookings, which have helped fill capacity and improve margins. The airlines took advantage of the cash surplus from fuel savings to grow capacity, reconstruct their fleets, and engage in other reorganization activities. However, currency fluctuations and a stronger dollar have resulted in the legacy carriers losing on unit revenue growth.
Article continues below advertisement
Regional carriers
The traffic growth for regional carriers was better than that of legacy peers in the industry. The traffic demand growth for Spirit Airlines again was the highest at an impressive 26.7% year-over-year, or YoY, for August after a similar performance in July. This strong growth in demand was primarily due to the strategically low pricing of tickets that the company is known for.
Other major regional carriers such as JetBlue Airways Corporation (JBLU) and Southwest Airlines (LUV) reported strong 6.7% YoY and 7.5% YoY traffic growth, respectively, driven by strong travel demand across the country.
These airlines are a part of the iShares Transportation Average ETF (IYT), which invests ~16.85% of its holdings in airline stocks.
Legacy carriers
Among legacy carriers, Alaska Air Group (ALK) saw the highest traffic growth of 7% YoY, primarily driven by the strength in Alaska Airlines.
American Airlines (AAL) also reported impressive traffic growth of 5% YoY for the month of August. This was led by a strong 15% YoY traffic growth in its Pacific market as well as 5.4% growth in the domestic market. The airline also declared its plans to launch a code-share agreement with Japan Airlines.
Delta Air Line (DAL) reported a 3.9% YoY growth in traffic, primarily driven by the domestic and Latin American markets.
United Continental (UAL) saw the lowest traffic growth of 1.5% YoY for August. The low growth was due to a 9.6% fall in regional traffic during the month, which offset the strong growth in the Latin American market and other domestic and international markets.
Next, we'll look at how various airlines responded to the traffic demand.