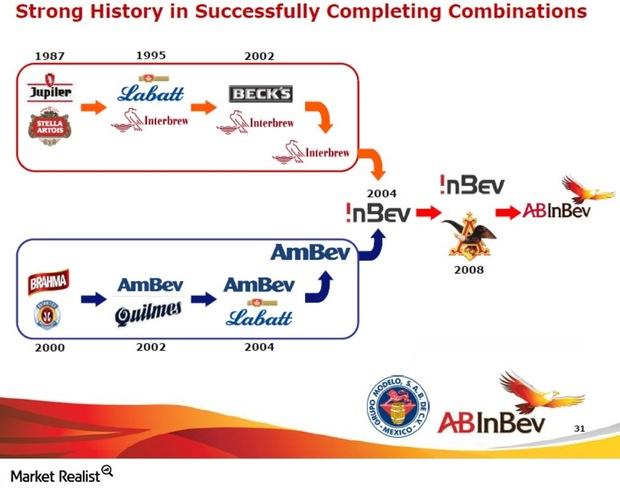 Anheuser-Busch InBev's Acquisition of SABMiller: Divestitures at a Glance
Anti-competitive concerns
Previously in this series, we discussed the possible acquisition of SABMiller (SBMRY) (SAB.L) by Anheuser-Busch InBev (BUD) (AHBIF) (ABI.BR), and how this merger could lead to significantly higher concentration in certain markets, particularly in the US and China. But regulators may ask either or both companies to divest of certain brands or businesses.
Anheuser-Busch InBev, or ABI, has been one of the most active companies when it comes to acquiring other firms in the industry. The Belgium-based company, in its present form, is also the result of a $52 billion combination—that of the US-based Anheuser-Busch and the Belgian-Brazilian InBev in 2008. InBev and Anheuser-Busch themselves both formed, in turn, from successions of combinations over the past 30 years.
Article continues below advertisement
Grupo Modelo acquisition
In 2013, Anheuser-Busch InBev (BUD) (AHBIF) (ABI.BR) completed the acquisition of Mexican brewer Groupo Modelo in a $25.6 billion transaction (value net of disposals). However, the purchase wasn't without its hiccups. The US DoJ (Department of Justice) initially blocked the acquisition on the basis of higher levels of industry concentration.
The deal was subsequently approved, however, when Modelo divested its entire US beer business to Constellation Brands (STZ) for ~$4.8 billion, including the exclusive rights to import, market, and sell the Corona brand in the US.
The rise of imported beer
According to the 2015 BrandZ Beer Top 10 ratings, Corona is ranked sixth among the most valuable brands in the world, with a brand value of $8.5 billion. It was also the top beer imported to the US in 2014.
While the beer volumes of conventional brewers are showing declining growth, imported and craft beer volumes are thriving. Imported beer volume in the US rose by 6.9% in 2014 to 29.4 million barrels, compared to 0.5% for the overall beer industry. This represents about 15% of the total market.
SABMiller's market share
SABMiller operates in North America through MillerCoors (TAP) in a joint venture with the Molson Coors Brewing Company. MillerCoors is the second largest brewer in the US, after ABI. The company estimates MillerCoors' US market share at 27%.
STZ and TAP together make up 0.2% of the portfolio holdings in the SPDR S&P 500 ETF (SPY).
Read more about how the US competitive landscape could change in the next part of this series.