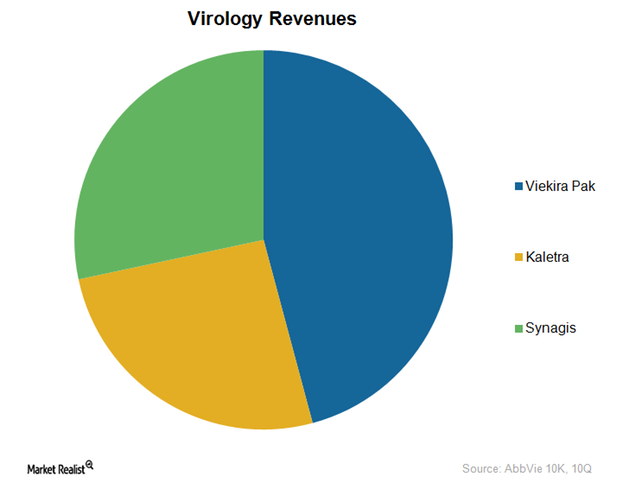 AbbVie Strengthens Its Position in the Virology Segment
By Margaret Patrick

Nov. 20 2020, Updated 1:30 p.m. ET
Virology segment
In addition to its blockbuster therapy Humira, AbbVie (ABBV) also offers several virology drugs targeting diseases such as hepatitis C (or HCV), human immunodeficiency virus (or HIV), and respiratory syncytial virus (or RSV).
The above graph shows that in the first half of 2015, Viekira Pak was AbbVie's best-selling virology drug, followed by Synagis and Kaletra.
Article continues below advertisement
Viekira Pak
Approved by the U.S. Food and Drug Administration (or FDA) in December 2014, Viekira Pak is an oral treatment for genotype 1 chronic HCV patients. In Europe, Viekira Pak was approved for patients with genotype 1 and genotype 4 HCV in January 2015. This drug has been a direct competitor to Gilead Sciences's (GILD) HCV drug Harvoni. To know more about HCV and Harvoni, please refer to Gilead's Hepatitis C Portfolio: 2 Key Drugs.
Though Viekira Pak has underperformed in US markets compared to Harvoni, it has witnessed strong growth in international markets. By the first half of 2015, the drug was approved in 47 countries. AbbVie also expects that Viekira Pak will be approved in Japan by the second half of 2015.
The company has estimated that the drug will manage to earn $1.5 billion in 2015. This will be affected, however, by changes in genotype 1 HCV patients in the United States, continued funding for Viekira Pak commercialization, and approval in Japan markets.
AbbVie is also expected to face additional challenges from Bristol-Myers Squibb's (BMY) newly approved Daklinza and Merck's (MRK) hepatitis C drug combination that is to be launched in 2016.
Other drugs
AbbVie's Kaletra and Norvir drugs are used to treat people with HIV-1 infection. According to AVERT, "There are two types of HIV: HIV-1 and HIV-2. Both types are transmitted by sexual contact, through blood, and from mother to child, and they appear to cause clinically indistinguishable AIDS. However, it seems that HIV-2 is less easily transmitted, and the period between initial infection and illness is longer in the case of HIV-2."
Kaletra has witnessed a gradual drop in revenues due to increased competition in the HIV space. Revenues will likely fall further as the drug's US patent expires in June 2016. To know more about biotechnology drugs in the HIV space, please refer to New HIV Drugs Could Be Blockbusters, Provide Tough Competition.
According to WebMD, "Respiratory syncytial virus infection, usually called RSV, is a lot like a bad cold. It causes the same symptoms. And like a cold, it is very common and very contagious." Synagis, targeted at RSV patients, is a seasonal product and witnesses maximum sales in the first and the fourth quarters of the year.
Investors can get exposure to AbbVie, Johnson & Johnson, and other companies developing virology drugs by investing in the VanEck Vectors Pharmaceutical ETF (PPH). PPH holds 4.84% of its total holdings in AbbVie.