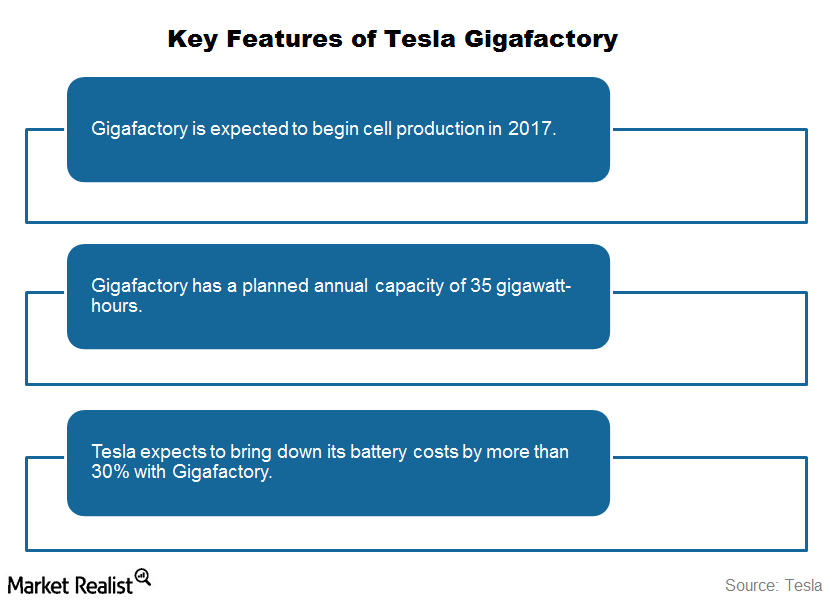 What Is the Strategic Importance of Tesla's Gigafactory?
Tesla Gigafactory
As discussed previously, Tesla (TSLA) is building a mass-market brand that could be priced around $35,000. To build an electric car at that price point, Tesla would need to bring down the battery costs. According to an Ars Technica report citing a research paper published in Nature Climate Change, battery costs make up almost a quarter of Model-S's production costs. The research paper also points out that battery costs for electric vehicles fell by more than 50% between 2007 and 2014.
Tesla is building its Gigafactory to further bring down battery costs.
Article continues below advertisement
Gigafactory to begin cell production in 2017
Tesla commenced the construction of its Nevada-based Gigafactory in mid-2014. The plant will have an annual battery production capacity of 35 gigawatt-hours, or GWh. Panasonic is Tesla's partner in building the Gigafactory. There are other strategic partners in Gigafactory, but their names haven't been officially disclosed by Tesla.
Gigafactory critical to Tesla's growth
Tesla plans to sell half a million cars by the end of this decade. This would mean a tenfold jump over its projected 2015 sales. To achieve this ambitious target, Tesla would need batteries. Here is where its Gigafactory fits into the big picture. According to Tesla, "By 2020, the Gigafactory will reach full capacity and produce more lithium ion batteries annually than were produced worldwide in 2013."
Tesla plans to bring down its battery costs by more than 30% with its Gigafactory. This would be a competitive advantage for Tesla over other electric vehicle manufacturers.
The iShares Russell 1000 Growth ETF (IWF) invests about 0.21% of its portfolio in Tesla. The fund also invests about the same amount in Delphi Automotive (DLPH) and in AutoZone (AZO).
In the next part, we'll discuss Tesla's global (ACWI) expansion plans.