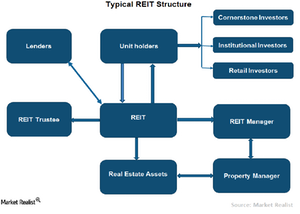 Why Did REITs Come into Existence?
What's a REIT?
A REIT is a company that acquires, owns, and operates income-producing real estate assets. Some REITs are also involved in financing real estate. Assets owned by a REIT include apartments, office buildings, shopping malls, hotels, resorts, warehouses, self-storage facilities, mortgages, and loans.
Article continues below advertisement
Why did REITs come into existence?
US REITs came into existence in 1960 when President Eisenhower signed the REIT Act contained in the Cigar Excise Tax Extension. REITs were created to provide access to individual investors to earn income through commercial real estate ownership. In order to achieve this, Congress decided to follow the equity structure of ownership. Just as the company shareholders benefit from an exposure in a stock, REIT shareholders earn proportionate income through owning a REIT unit.
Looking ahead
In this series, we'll discuss the importance of REITs to average investors. We'll provide a complete business overview of the REIT industry. We'll explore key points that influence the industry. We'll also run through a profile of major players like Simon Property Group (SPG), Public Storage (PSA), Equity Residential (EQR), Health Care REIT (HCN), Ventas (VTR), and Boston Properties (BXP). At the end of the series, we're going to discuss REIT ETFs like the Vanguard REIT ETF (VNQ), the iShares U.S. Real Estate ETF (IYR), and the iShares Cohen & Steers REIT ETF (ICF).
Article continues below advertisement
Content
REITs basics
Why REITs Came Into Existence?
What are the Regulatory Requirements to Qualify as a REIT?
Must-Know: How REITs Have Evolved Over the Years
What are the Advantages and Disadvantages of Investing in REITs?
Sectoral REITs
What are the Different Types of REITs?
What are the Different Sectoral Equity REITs Available to Investors?
Must-Know: Residential Sector is One of the Largest REITs Segment
Affordable Health Care Boosting Health Care REITs
Industrial REITs Buoyed By Solid Economic Fundamentals
Fortunes of Office REITs are Linked to Robust Job Growth
Lodging and Resorts REITs are into Cyclical Business
Rising Consumer Spending to Propel Retail REITs
Shopping Center REITs Are Sensitive to Economic Cycles
Self-Storage REITs – Who Doesn't Want Storage Space?
Technological Advancement May Further Boost Data Center REITs
Article continues below advertisement
Financial parameters
What are the Factors Driving REIT Earnings?
REITs Dividend Yield is Higher Compared to Other Asset Classes
REITs Provide Better Returns than Other Asset Classes
Valuation
What are the Methods Use for REITs Valuation?
Why You Should Know About the Capitalization Rates
Most of the REITs are Trading Close to their Historical Multiples
Global REITs, indexes, and ETFs
How Global REIT Industry Followed US REIT Model
REIT ETFs Offer Alternative Investment Option